Thom Browne is the designer who made it hip to wear slightly-too-small suits—slim pants hit at the ankle and shrunken jackets have sleeves that end just above the wrist. Harry's broke the shaving mold by offering high quality razors and accouterments at affordable prices. Though with its new collaboration with the former, they're aiming to break the bank.
Today, Harry's is introducing fashion forward razors for people who believe money is no object. The two limited edition offerings, exclusively sold at Barneys, are priced at $150 and $250. Now you're probably asking yourself, "What are they made out of gold?" Well, yes in fact one of them is. Plated in 24 karats to be exact and the other in sterling silver. Besides the precious metal, which will probably make you question whether you should actually put said razor to its intended use, the shiny implements are ringed with Browne's signature red, white and blue stripes.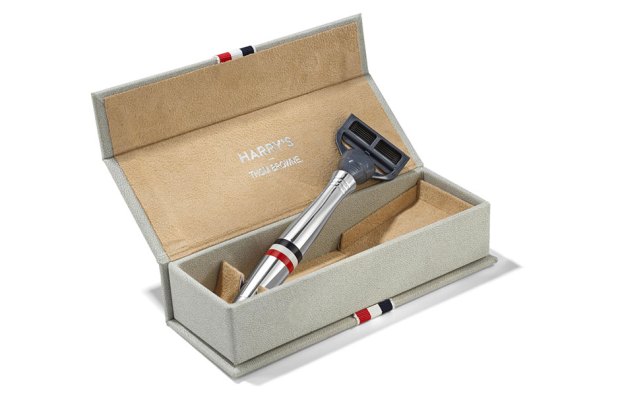 And what else do you get in exchange for emptying your bank account to pay for a razor? A luxe leather box lined with grey suede and accented with a grosgrain ribbon that you can repurpose as a swanky pencil case or something. And that's not all folks! A portion of the proceeds goes to Browne's favorite charities, God's Love We Deliver and St. Jude's Children's Research Hospital, so you can feel pretty good about that.
Editors' Recommendations