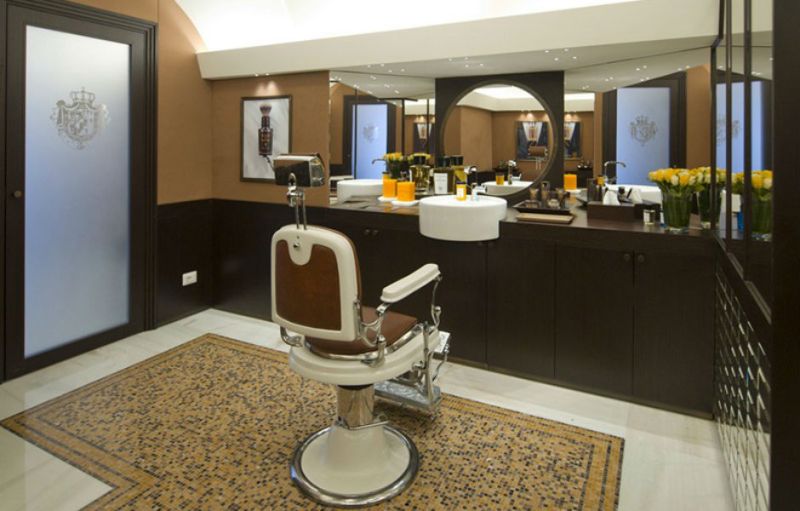 Acqua di Parma has made a name for itself as a leader in Italian, style, taste and sophistication over the years. The label's grooming products exude a certain Italian sogno — dream. This year marks Acqua di Parma's 100th anniversary, so why not pay homage to the label by visiting its iconic barber shop next time you're in Milan? Located in Milan, the capital of Italian fashion, on Via del Gesù 1, the barber shop is right inside the Acqua di Parma boutique.
Situated in an Italian mansion, Acqua di Parma is decorated with wall coverings in wenge wood and cashmere, putting out a display of masculinity and style all at once. Once inside, you can browse through Acqua di Parma's product line, from its shaving creams and scrubs, to its shaving oils, moisturizing balms, after shaves, eye treatments and more. There, you can have a seat in the classic barber's chair and choose from the following treatments:
Rasatura Tradizionale

(30 min.): a classical shaving service offered by Acqua di Parma that hydrates and illuminates your skin, meant for men with a busy lifestyle
Rasatura Prestige

(50-60 min.): a complete shaving service designed to revitalize and refresh your skin, that includes exfoliation and a series of other treatments to improve the resiliency and texture of your skin
Afterwards, your skin will feel smooth and refreshed. So next time you're in Milan, envelope yourself in Italian style and luxury by paying a visit to Acqua di Parma's barber shop. You can also take as many products home as you want — an ideal souvenir from Milan and Acqua di Parma.
Editors' Recommendations