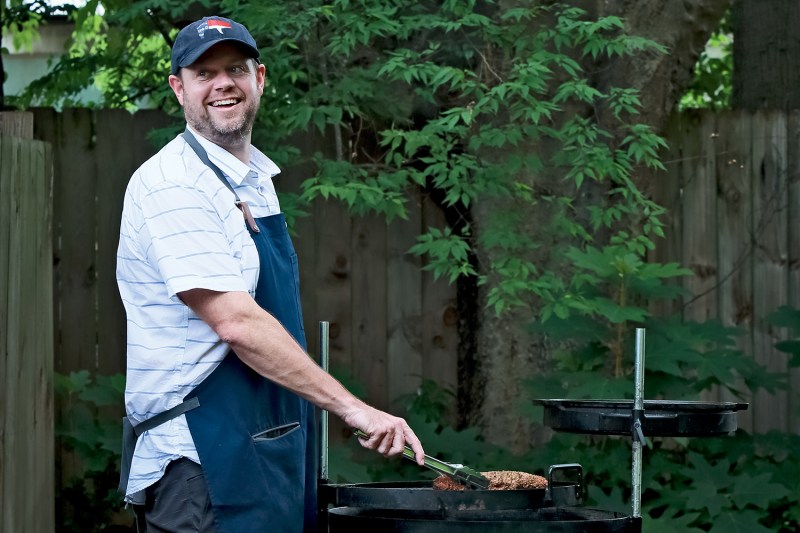 Just because the temperature is slowly dropping does not mean you should stop grilling. In fact, what better way to stay warm when it's a little cooler out than to be standing near your grill? (Bourbon is a good way to stay warm, too, but we're trying to make a point here.)
What we're trying to say is that you should be grilling until you physically can't grill because of snow, et cetera. The next question, then, is what to grill? Burgers and dogs are so (literally) last summer, so you need to move on to heartier fare that will stick to your ribs and fill you up.
We reached out to Matthew Register, creator of the Garland, North Carolina barbecue joint Southern Smoke (and author of the newly-released ), to see what he would suggest for a great fall grilling recipe.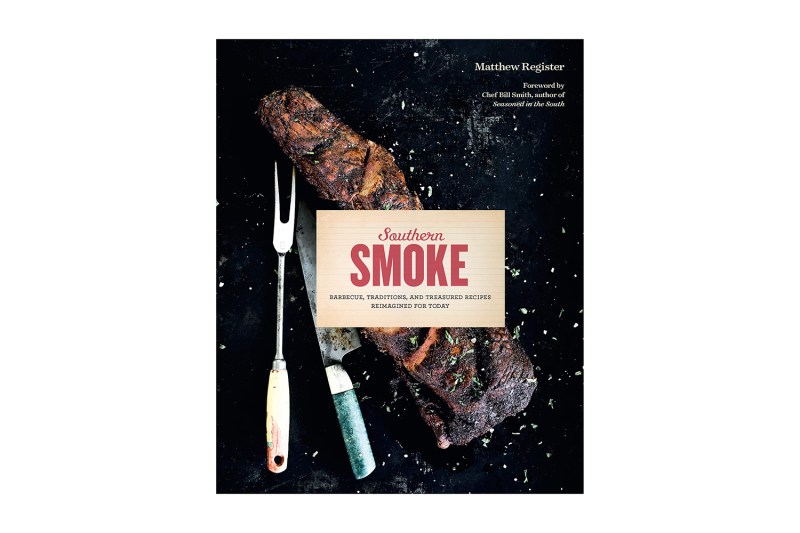 Below, check out his recipe for grilled pork tenderloin with tomato and greens ragu. It is sweet, salty, warm, and hearty all at once and we plan on cooking it all autumn long.
Grilled Pork Tenderloin with Tomato and Greens Ragu Recipe
(Serves 4)
"I've done a lot of cooking in an unassuming house in Sledge, Mississippi. It's not a fancy kitchen. The countertops are often cluttered with duck calls, coffee cups, and the occasional wine glass. The reason I love this kitchen is the people I've shared it with: My father, uncle, cousin, and friends. After a day of hunting, this is the recipe I'll make, served up family-style on a huge platter. The ragu — which gets its sweetness from the tomatoes, aided by the garlic — is a perfect way to use fresh greens to liven up a basic grilled pork tenderloin. When it's poured over the top of the rich pork loin, the ragu creates a perfect balance of sweet and salty heartiness that will warm your soul."
Ingredients for the ragu:

4 tsp (20 ml) olive oil
1 medium onion, diced
2 cloves garlic, minced
.25 tsp red pepper flakes
5 cups (150 g) greens, such as spinach, escarole, or turnip
2 cans (14½ ounces [411 g] each) diced tomatoes
2 whole pork tenderloins (about 1 pound [455 g] each)
Ingredients for the pork tenderloin rub:
1 tsp garlic salt
1 tsp freshly ground black pepper
1 tsp dried parsley
.5 tsp dried oregano
.5 tsp garlic powder
Method for the ragu:
In a medium saucepan, heat the olive oil over medium heat. Add the onion and cook, stirring often, until softened, about 3 to 5 minutes.
Add the garlic and red pepper flakes and stir. Cook for about 1 minute.
Stir in the greens and cook for 2 minutes, or until they begin to wilt.
Reduce the heat to medium-low and add the tomatoes. Simmer for 10 minutes, then reduce the heat and cover to keep the ragu warm while you grill the pork loins.
Method for the pork and pork rub:
Prepare a charcoal grill (see page 25). Meanwhile, in a small bowl, combine the rub ingredients and stir with a fork until well mixed. Pat the rub onto the tenderloins and let them sit at room temperature while your grill heats up.
Once the grill is ready, place the tenderloins over direct heat.
Cook the tenderloins for 5 to 7 minutes per side and try to flip them only once. After cooking on both sides, check the internal temperature.
From here, the goal is to get the tenderloins in the 140°F to 145°F (60°C to 63°C) range without overcooking them. To do this, move them over indirect heat and continue to cook until they reach the correct internal temperature, about 18 minutes total cooking time.
Remove the pork from the grill and let it rest for 10 minutes.
Slice the tenderloins in ¼-inch (0.5 cm) slices and place on a large platter. Spoon the ragu over the top and serve immediately.
You can pick up your own copy of Southern Smoke here.
Recipe and Photos courtesy of Southern Smoke by Matthew Register. Harvard Common Press 2019.
Editors' Recommendations