In the dead of winter, there are few things better than noshing on rich, flavorful foods with friends and family. With recipes ranging from from creamy kale and sausage soup and maple-roasted butternut squash to slow-cooked pot roast, it seems that winter is the season for intense flavors. But constantly eating heavy food can take a toll on your waistline. With spring and summer not far off, it's time to switch gears to lighter fare.
Eating well can be frustrating–it feels like you have to sacrifice flavor (sugar, fats, salt) in order to maintain a healthy lifestyle. But that doesn't have to be the case. You can eat well and enjoy your food at the same time. We've written before about how easy it is to snack in a healthy way, but we're taking it to the next level with these flavor bombs.
We talked to Chef Dave Becker, the owner/chef of Juniper in Wellesley, Massachusetts and Sweet Basil in Needham, Massachusetts, about eating well without eating bland. Becker developed three recipes for dips that are packed with flavor but still good for your waistline, and he's sharing them with The Manual. Lucky us. Becker has been working in kitchens for over two decades, and he has an intuitive understanding of what makes food work.
"You have to please all the senses with the food you make," he says. "You don't need to throw together a million ingredients, but play with temperature, texture, color. You know, hot and cold, soft and crisp. Let your mouth be surprised. And always let the ingredients speak for themselves."
The recipes Becker has developed are all simple: they each have less than 10 ingredients (including salt and pepper), and they take less than ten minutes to make. But don't let the simplicity deceive you. These dips are packed with flavor. To boot, they're great for sharing. Never again will you grimace when you're told to eat your veggies.
Note: The photos in this post are of halved recipes.
Matbucha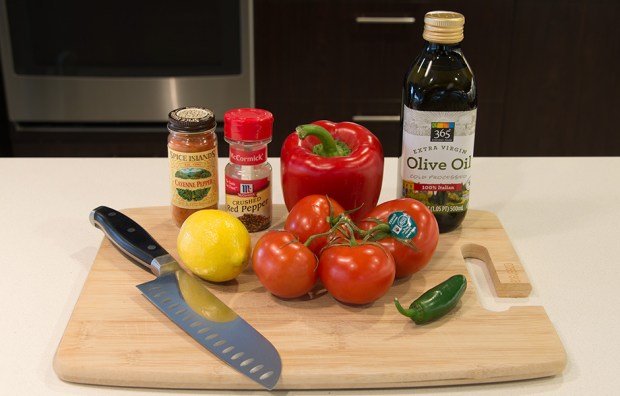 8 tomatoes
2 red peppers
1 jalapeño
1 teaspoon red chili flakes
1 tablespoon paprika
⅛ cup lemon juice
¼ cup olive oil
cayenne pepper to taste
Serves: 8-10 people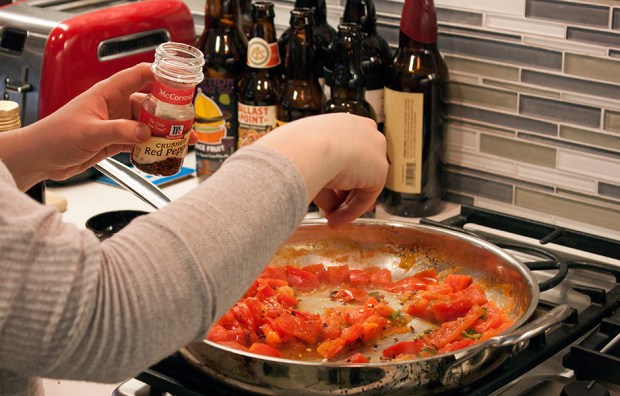 Chop tomatoes and red peppers. Sauté them over medium heat until they are cooked down, stirring occasionally, about five minutes. Add jalapeños, olive oil and lemon juice. Season with red chili flakes and paprika. Add cayenne to your liking. (Note: in the halved recipe, we still used an entire jalapeño, because we're big fans of spicy food at The Manual.) Serve either warm or cold, though in taste testing, we preferred warm. Matbucha goes well with either tortilla chips or warm pita.
Pair with an American pale ale. The hint of citrus and bite of hops will go well with the kick of spice in the matbucha.
Tzatziki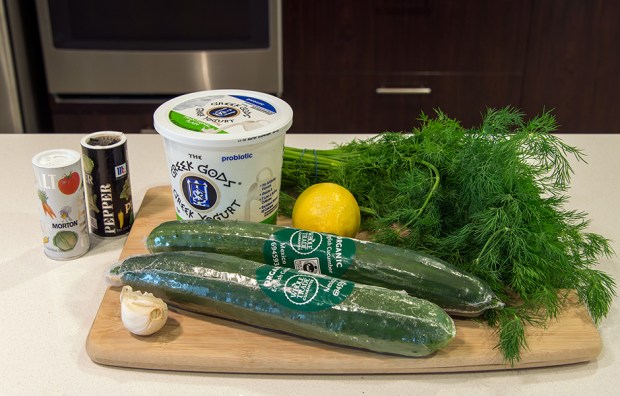 1 quart of plain Greek yogurt
4 cucumbers
2 tablespoons lemon juice
2 cloves of garlic
4 tablespoons of fresh dill
Salt to taste
Pepper to taste
Serves: 8-10 people
Dice cucumbers and finely chop dill. In a food processor, combine all ingredients and puree until smooth. (We used a Blendtec Designer 725, a high-powered blender our brother site, Digital Trends, reviewed in 2014. It was more than enough to do the trick.) Serve with warm pita, garlic naan or cherry tomatoes for dipping, or drizzle over grilled chicken or steak. Or even falafel. One of our taste testers even combined this with the edamame hummus with positive results. Honestly, you can't go wrong with this baby.
Pair with a blonde ale, which will pick up the subtle lemon tang in the tzatziki very well. It's basically like summer in your mouth.
Edamame Hummus
½ lb edamame beans (frozen or raw)
1 clove of fresh garlic
3 tablespoons olive oil
¼ cup water
salt to taste
pepper to taste
Serves: 6-8 people
In a food processor, puree beans, garlic and water until smooth. Add olive oil to mixture and continue to puree. Season with salt and pepper to your liking. Serve with pita, chopped veggies (such as bell peppers or carrots), or tortilla chips. We even tried spreading it on whole wheat toast with a little kimchi butter, which was the perfect mid-day snack.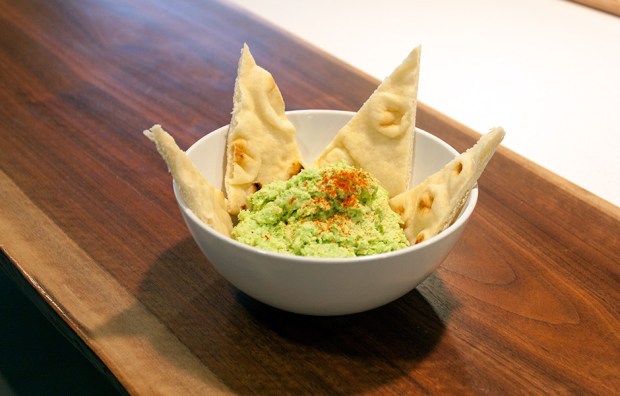 Pair with a pilsner. This refreshingly delicate, almost floral beer tastes like it was made to enjoy with edamame hummus.
Editors' Recommendations