Coffee lovers take note because we've found just the Nespresso Machine Cyber Monday Deal to upgrade your cup of joe at home, easily. Although Cyber Monday is an outstanding time to shop deals of all sorts on gadgets and gear, this is one of the best Cyber Monday deals we've got our eyes on at the moment, so don't let it go to waste. For one, Nespresso coffee makers offer some of the best and most convenient ways to enjoy great coffee at home, and it's not every day that you'll find savings like these. That's why we're here to tell you that you should certainly snag a Nespresso VertuoPlus Deluxe Espresso Maker Deluxe Black Bundle with Aeroccino3 Milk Frother for only $180, a savings of $60 off its normal price. Why do you need this one in your life? Read on to get the full scoop.
Today's Best Nespresso Machine Cyber Monday Deal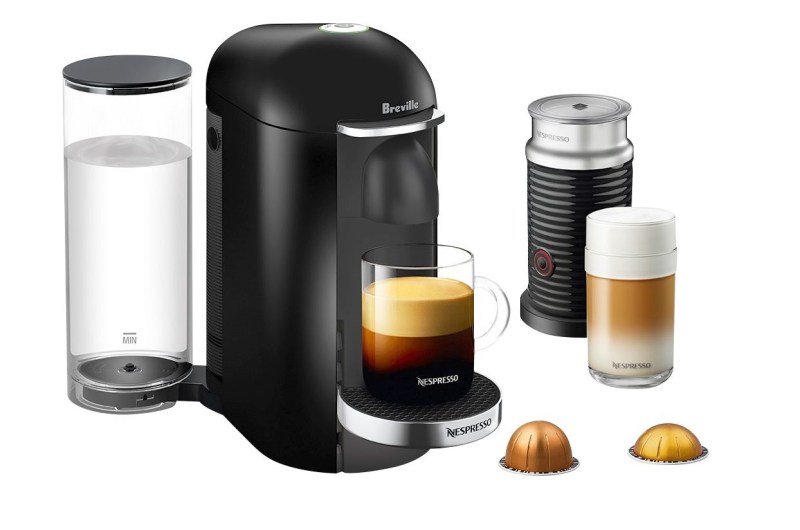 Why Buy:
Elegant, yet compact design that's a handsome addition to any home
Sustainable construction with eco-friendly accessibility
Ability to brew multiple varieties and volumes of coffee
Easy-to-use functionality that delivers plenty of bang for your buck
Look, making a great cup of coffee at home is a bit more difficult these days than you might think. The pandemic, for instance, might have changed your routine and kept you from getting your favorite cup of joe at a local shop. Perhaps that's made you realize that your coffee maker needs an upgrade, but you haven't yet sprung for one yet. Luckily, this deal makes it absurdly easy to upgrade your coffee at home for a relatively low price.
For our money's worth, the Nespresso VertuoPlus Deluxe Espresso Maker Deluxe makes it wildly easy to get exceptional coffee with just a few clicks on your new Nespresso machine. The capsule system requires you only to select the type of capsule you'd prefer (sorted by size for larger volumes), and Nespresso occasionally sends its machines out with an introductory Nespresso starter set to get your coffee brewing the right way in just mere minutes. It uses a high-pressure pump resulting in rich flavor just like you'd find in a coffee shop itself, and it doesn't hurt that the design of this machine is like a more compact version of what you'd find in a high-end coffee shop in terms of aesthetics.
The drip tray and capsule system ensure that messes are minimal and easy to clean up, while the entire unit is made in sleek black for slick, sharp style. It's certainly hard to top the fact that this deal knocks $60 off the purchase price, even greater savings when you consider how much dough you'll keep handy by forgoing multiple coffee shop trips a week (or, let's be honest, per day). Nespresso has thought of plenty beyond just this coffee maker deal, though. Also included in the bundle is the Nespresso Aeroccino3 milk frother, rated one of our best milk frothers.
Nespresso certainly offers a variety of machines and corresponding capsules, but this particular unit, with a focus on making quality espresso and then sizing up from there, is a must-buy if you prefer a quick jolt of caffeine done with quality in mind. Once you've tried the Nespresso Vertuo Plus, you might even wonder why you passed up getting a quality coffee maker for your home all these years. It should also prove relatively easy to assemble, and even easier to use… and easier still to enjoy cup after cup of exceptional coffee at home.
Should You Shop This Nespresso Machine Cyber Monday Deal Today or Wait Until Tomorrow?
Although there are lots of deals worth shopping right now for Cyber Monday, we still think that time is of the essence when scouring the web for Nespresso Machine Cyber Monday deals. To keep it simple, that means we think you need to start shopping for this standout coffee deal right here and right now.
Why's that? Well, items like the Nespresso Vertuo Plus don't go on sale every day (a shopping understatement if ever we heard one). That means that stock is limited in terms of this sale, with deals flying off the shelves left and right. Added that, retailers are struggling mightily to keep inventory available. A recent report from Adobe Analytics found that stores have had 124% more out-of-stock alerts across their sites compared to before the pandemic. Long story short: Shop now for this elegant, functional, and crisply designed Nespresso machine for Cyber Monday, and reap the rewards later.
Editors' Recommendations