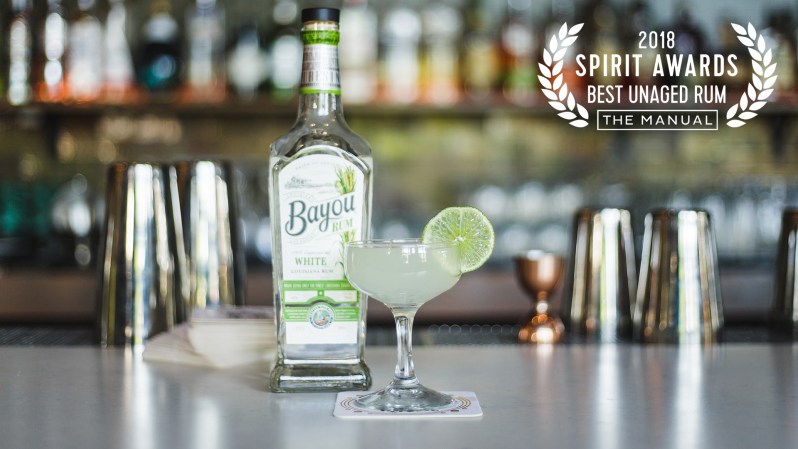 The Manual Spirit Awards recognize the best damn booze in America. Across nine categories — Bourbon, Rye, Single Malt Whiskey, Unaged Rum, Aged Rum, Vodka, Flavored Vodka, Gin, and Brandy — we blind-tasted multiple products from around the country to determine our champions. Each of the winning bottles was judged on appearance, aroma, palate, finish, and how well the product represented the category as a whole. Our focus on smaller craft distillers in the U.S. allowed us to highlight spirits that, we hoped, our readers have not tried yet.
Best Unaged Rum
Bayou Silver Rum
Rum is a distillate made from fermented sugar cane juice, sugar cane syrup, molasses, other sugar cane byproducts, or some combination thereof. The product is distilled at less than 190 proof and bottled at no less than 80 proof. Typically known as Caribbean spirits, rums are produced around the world and were a key ingredient during the colonial era here in the United States.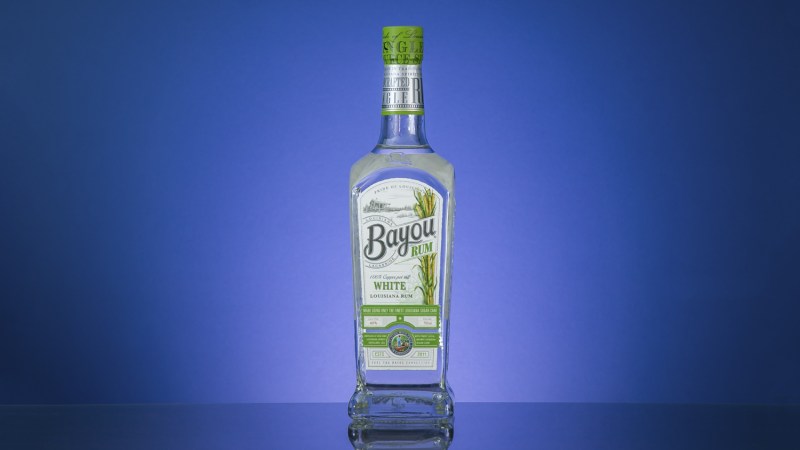 Bayou Silver Rum (40 percent alcohol by volume) is an unaged rum made from a blend of local, unrefined sugar cane and molasses by Bayou Rum Distillery of Louisiana. We really enjoyed its cleanness. The tropical notes that underpin the sweet vanilla and butterscotch characteristics make it an easy-to-drink spirit, both on its own and as a component to a variety of cocktails. There's just enough heat to remind you that you're drinking an unaged rum, but not too much to distract from the overall experience. And the best part? Bayou Silver Rum is available nationwide.
Tasting Notes
Appearance: Bayou Silver is clear.
Nose: Heavy vanilla characteristics meet butterscotch and some black pepper notes.
Palate: Somewhat viscous, you're immediately greeted with more vanilla and butterscotch that lead into banana flavors, followed by some hints of tropical fruit. There's a certain amount of heat to the rum, but it is not overwhelming.
Finish: The heat follows through on the finish with a general sweetness composed of more vanilla notes. The blend of molasses and sugar cane creates a certain vibrancy that leaves a pleasant memory on the tongue after swallowing.
About the Distillery
Bayou Rum is distilled in Lacassine, Louisiana, about 20 minutes east of Lake Charles and three hours west of New Orleans. Bayou Rum Distillery's parent company, Louisiana Spirits, was founded in 2011 by three friends who decided to create a spirit that utilized local sugar cane, which had been cultivated in the state as far back as the 1700s. What resulted was Bayou Rum, which has grown to become the top craft rum in the country.
In total, the distillery puts out four products (one unaged and three aged): Bayou Silver, Bayou Spiced, Bayou Satsuma, and Bayou Select. Regardless of the spirit, each rum uses a blend of sugar cane molasses and raw sugar that is distilled in a copper pot still. In the case of Bayou Satsuma, Bayou Select (rum that is aged in bourbon barrels for up to three years using a Solera method) is blended with satsuma oranges to create the liqueur. The rum is then hand-bottled and shipped out across the nation.
How to Enjoy It In a Cocktail
Daiquiri
The daiquiri is a classic rum cocktail enjoyed by countless, including none other than Ernest Hemingway. With only three ingredients, this cocktail allows the rum to really shine through. The sweet vanilla and banana flavors blend seamlessly with the lime for a crisp, clean drink. For step-by-step instructions, check out our detailed video on how to make a daiquiri.
Glass: Coupe
Tools: Shaker, strainer
2 oz Bayou Silver Rum
.75 oz lime juice
.75 oz simple syrup
Lime wheel
Method: Add ingredients to a shaker with ice. Shake well. Strain into a chilled coupe glass. Garnish with a lime wheel.
Best Unaged Rum Runners-Up
| | |
| --- | --- |
| First City Rum | Ko Hana Hawaiin Agricole Rum |
| Trail Distilling | Ko Hana |
| Oregon City, Oregon | Kunia Camp, Hawaii |
| | |
| A gold rum, Montanya Oro Rum boasts oak and fruit flavors that mix with black pepper and wood notes. There is some apple in there as well, leading to a great sipping experience. | Cane sugar and molasses are heavy on the nose and across the palate of Red Harbor Rum, with vanilla and some wood flavors presenting themselves towards the end. |
Editors' Recommendations