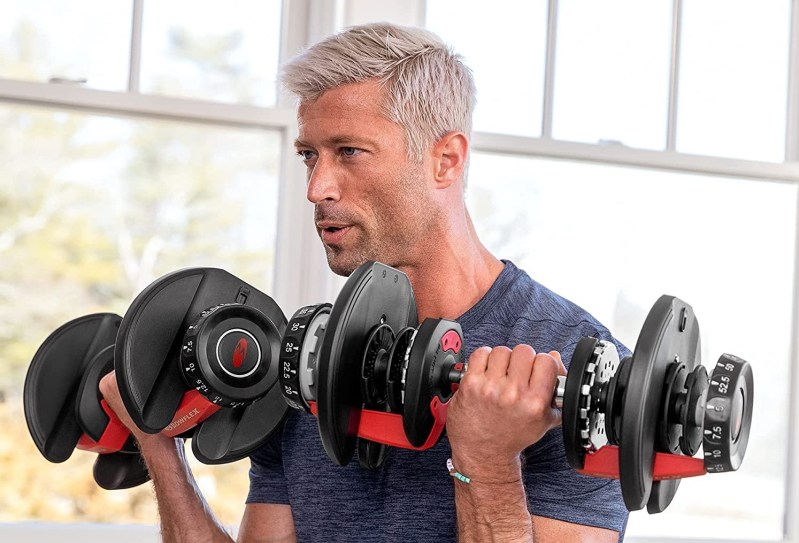 One of the most popular dumbbell deals is whenever Bowflex Adjustable Dumbbells are on sale. That's exactly what's happening right now with the Bowflex SelectTech 552 Adjustable Dumbbell pair for sale at Amazon for $379. Usually priced at $549, this is a sizeable saving of 31% or $170 so this is one not to be missed if you've been waiting to snap up the convenience of adjustable dumbbells. Either hit the buy button straight away or take a look below at what else you need to know. Either way, be quick. These dumbbells tend to sell fast.
Why you should buy the Bowflex SelectTech 552 Adjustable Dumbbells
Some of the best dumbbells around, the Bowflex SelectTech 552 Adjustable Dumbbells are incredibly practical. If you've just started working on the best dumbbell workouts, you've probably already noticed that your dumbbell collection is growing a little too fast for your liking. It's great to get stronger and need to use heavier dumbbells but if you have a limited workout space or you're dependent on the room your dorm or apartment offers, you're almost certainly tripping over dumbbells by now.
A pair of Bowflex SelectTech 552 Adjustable Dumbbells are all you need to save all that hassle while still benefiting from up to 52.5 pounds of weights to lift. to use them, you simply pick a weight on the weight selection dial and lift. Weight selections vary from 5 to 52.5lb, increasing in 2.5 pound increments so there's an extensive range of options here. In the long run, it's going to save you a fortune from needing to buy individual dumbbells as well as save you a ton of space. In all, the dumbbells replace 15 sets of weights.
It takes moments to adjust the weight so it's still a good fit if you have a workout routine that involves different weights at different times. It also comes with a free 2 month membership for JRNY so the app can count your reps for you and track your form too. Other adjustable dumbbells might exist but you can't beat the Bowflex SelectTech 552 adjustable dumbbells for pure ease of use and convenience.
Typically priced at $549, you can buy a pair of Bowflex SelectTech 552 Adjustable Dumbbells for $349 at Amazon right now. A huge saving, you're going to love how convenient these are. Buy them now before the deal ends soon.
Editors' Recommendations