Bicycle gear manufacturer Brooks England has spent the better part of 2016 (rightfully) celebrating its 150 years as a business. Featuring special collaborations with Brompton and Condor Cycles — to name a few — Brooks' anniversary tour has highlighted not only what it does best (i.e. the leather bicycle saddle) but also showcases what a host of quality brands do as well. To continue its year-long victory lap, Brooks just announced yet another stunning partnership, only this time, it's got exclusivity in spades.
Related: How tough is the Tough Mudder? We ran one to find out
Choosing to partner with the independent Japanese bicycle brand tokyobike, Brooks' new release is an extremely limited edition Mini Velo. Delicately handmade in Japan by renown bike builder Osamu Fukuda, the exclusive Mini Velo is also part of Brooks England's Dashing Bikes program, yet another initiative designed to help the esteemed company ring in 150 years. Furthermore, when we say "exclusive" and "limited edition," we mean it. Just ten of Fukuda's custom designed bicycle were manufactured with each boasting a unique copper plate to commemorate the edition.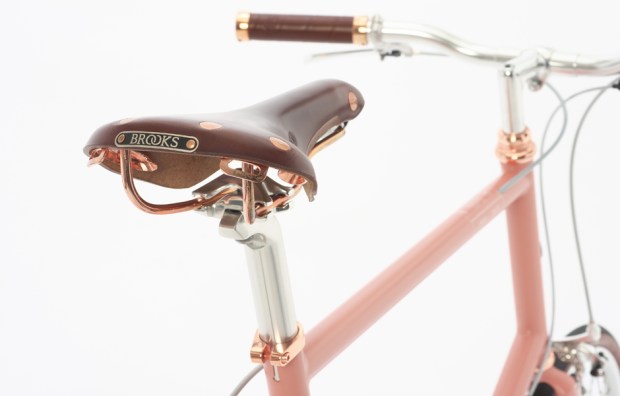 "The Dashing Bikes program unites a small number of exceptional bike builders from around the world under a single theme: 'copper,'" a companion press release published by tokyobike reads. "The tokyobike Mini Velo is fitted with a Brooks anniversary Swift saddle and slender grips that have copper rails, rivets, and flanges. It is also finished with a number of copper components that have been custom made in Japan."
In preparation for this collaboration, tokybike took it upon itself to personally approach Osamu Fukuda in order to bring him aboard — with all his 40 years experience building custom bikes. Throughout his impressive career, Fukuda has gotten his hands dirty crafting some of the finest high-end bicycle frames in the industry. A well-known reputation that precedes him, it was a no-brainer for tokyobike and Brooks England to secure such a big name for their partnership. It also goes without saying that Fukuda's work — which includes handmaking each of the ten bikes — is utterly amazing.
Select flagship tokyobike and Brooks 1886 stores worldwide plan on carrying the limited run which will retail for $3k per bike. Additionally, the brands have stated that it would make the bikes available to anyone requesting to purchase them.