Mack Weldon has been cranking out quality men's basics for years. It's not bold patterns, gimmicky features, or buckets of bling that has made them a staple of so many wardrobes; instead, the brand has always relied on sensible design, quality fabrics, and meticulous quality assurance to create clothing that looks sleek, fits consistently, and bridges the gap between form and function. Now, the innovative menswear-maker is spreading its wings and answering customers' calls for a line of accessories designed with this same level of care and consistency.
The ION Series — a collection of upgraded accessories — launched earlier this month, with more products set to join the lineup in early 2018. Just like their clothing, the ION Series follows Mack Weldon's overall "mission to reinvent basics" by incorporating genuine functionality into must-have gear. Here is everything you need to know about the new collection.
Swipe Gloves – $28
Remember ye olden days when using your phone outdoors in the winter meant taking off your gloves and risking the loss of a finger? Mack Weldon remembers, and they want to make sure those dark times stay in the past where they belong. That's why the ION Series includes the Swipe Gloves, which are made with heat-conductive yarn that allows you to keep on textin' even in the dead of winter. The slim fit means you can actually use them, too, because they won't give you awkward sausage fingers.
Travel Kit – $48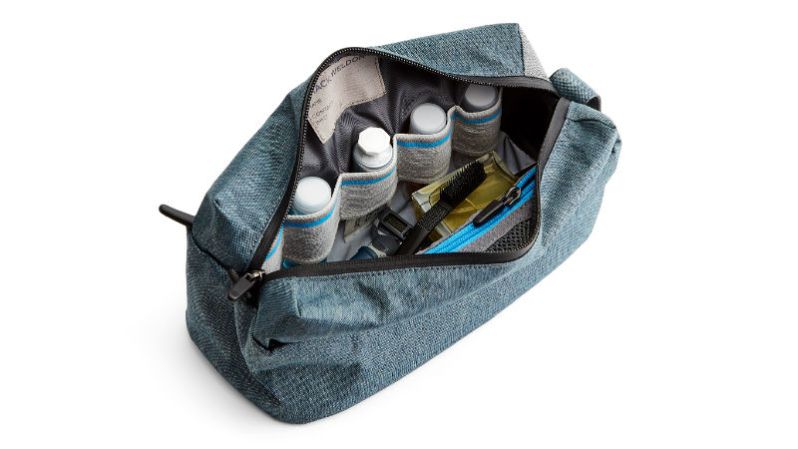 In the midst of precisely measuring your carry-on, cage-matching strangers for a seat when the airline oversells, and getting searched for inner-thigh bombs, it sure would be nice if you could at least bring the shampoo you like on your business trip without getting grilled by airport security. Not only does the ION Travel Kit come with four TSA-approved toiletries bottles, it's also made with waterproof, reflective, antimicrobial fabric and sealed zippers so it stays fresh, clean, and stylish through every checkpoint.
Wallet – $68
If you're the type of guy that forgets to charge your phone more often than you'd like to admit, this just might be the wallet you've been waiting for. Not only is it decked out with the best of your typical wallet-y features – like plenty of card slots and a coin pocket with a magnetic closure – it also comes with a super slim CHRGR battery (with its own dedicated pocket) so you will never get stranded in Low Power Mode again. The stylish pocketbook has your back in other ways, too: the water-resistant fabric contains a thin layer of RFID-blocking material to keep you safe from scanners.
Weekender Bag – $148
Mack Weldon calls the ION Collection's pièce de résistance 'The Weekender Bag', but we really think it should be called 'The Every Single Activity of Every Single Day for the Rest of Your Life Bag'. Ok, maybe that's not quite as catchy, but our point remains: this bag's got it, and you're gonna wanna flaunt it. Got a lot of stuff to carry to the office? This baby's got eight storage compartments, including a dedicated space for your laptop. Headed to the gym after work? Waterproof fabric and sealed zippers will protect your possessions, while an antimicrobial silver ion lining will keep the funk from your gym sweats from sticking to the bag's interior. Forgot to plug your phone in last night and need to stream some tuneskies stat? Well, here's an idea: reach into the dedicated CHRGR pocket and pull out the included battery to juice up your devices in a hurry. What's that you said? This duffel sounds great but sometimes you'd really prefer a backpack? That's cool, just pop the padded straps over your shoulder and The Weekender converts instantly. Mic drop.
Editors' Recommendations