When you are born at West Point, the military runs in your blood. So is the story of Emily and Betsy Nunez. Emily is now a second lieutenant and her father is a retired colonel. While attending Airborne School she heard the stories of veterans who suffered from lingering emotional and physical hardships as well as unemployment challenges.
In order to bring awareness to the issues faced by active duty soldiers and their families the girls began Sword & Plough (S&P), a bag company made with recycled and repurposed military gear. By doing this they empower veteran employment, reduce waste and strengthen civil- military understanding.
Here is what makes the company even more awesome:
The girls work with companies and no-profit organizations that employ veterans as sewers, manufacturers and managers. They even ask these companies to scale with them by hiring veterans to meet the demand for S&P.
Since they recycle thousands of pounds of military surplus fabrics the bags are also durable and water resistant.
The goal is to emotionally and physically touch civilians in their everyday lives to remind them of the challenges our country and our veterans face and the power that every person has to help.
S&P donates 10% of its' profits to Veteran organizations.
The name stems from the ancient saying 'To turn swords into plough shares.' In that context S&P is taking military technologies and materials and applying them to peaceful civilian applications.
The company has a handsome range of messengers, totes and sacks as well as iPad sleeves, Dopp Kits, belts and card holders all made in Colorado.
For Black Friday the brand is launching this handsome weekender. Check the site to snap one up!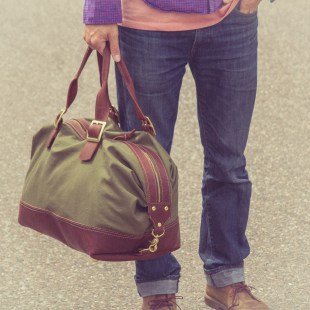 Editors' Recommendations