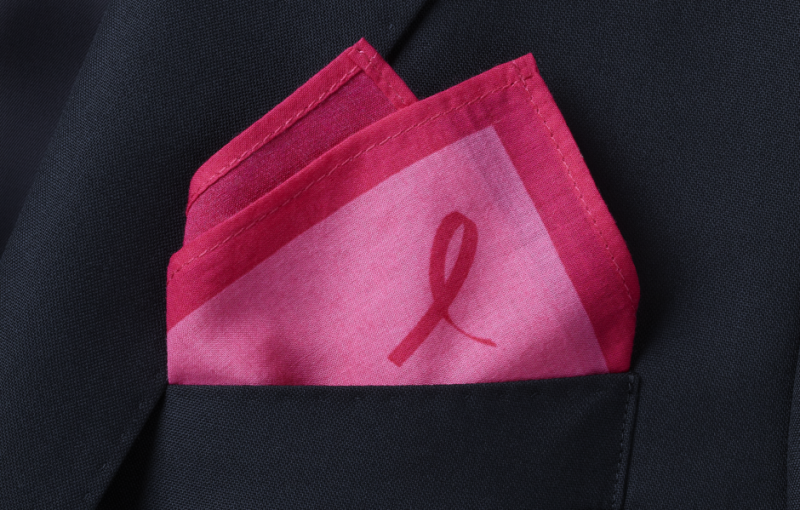 For the second year in a row, Lab Series Skincare for Men has launched their Pink Pocket Square Initiative. Between September 1 and December 31 2015, folks who spend more than $50 on Lab Series products online or at participating department stores will receive a complimentary pink pocket square.
This year's pocket square boasts two patterns and two shades of pink, allowing up to four distinct looks. If you have a pink tie or dress shirt to match, you'll have yourself a good-looking outfit. Of course, you needn't worry too much about clashing; since October is Breast Cancer Awareness month, a little flash of pink is almost always appropriate — especially if it's actually on your breast.
Lab Series is doing a lot more than just handing out pink pocket squares. They're also offering the limited-edition Age Rescue + face lotion, plus the opportunity to fund breast cancer research. Between September 1st and December 31st, Lab Series will donate 20% of each Age Rescue + purchase to the Breast Cancer Research Foundation (suggested retail price of $50).
Related: How to Fold a Pocket Square
According to the American Cancer Society, an estimated 2,350 American men will be diagnosed with breast cancer in 2015, and 440 will die. However, we can all agree that women suffer the greater risk by far: this year, more than 230,000 American women will be diagnosed with breast cancer and more than 40,000 will die.
Though the death toll is still high, five-year survival rates have increased significantly over the past 40 years — from 75.2% in 1975 to 91% in 2007. Millions of lives — each of which is priceless — have been saved thanks to increased awareness and funding for cancer research.
By taking advantage of Lab Series' Pink Pocket Square initiative and limited-edition Age Rescue + face lotion, you can help extend women's lives while making yourself look younger and more stylish. So how 'bout it, fellas? Think of the breasts!
Lab Series Age Rescue + Face Lotion: $50