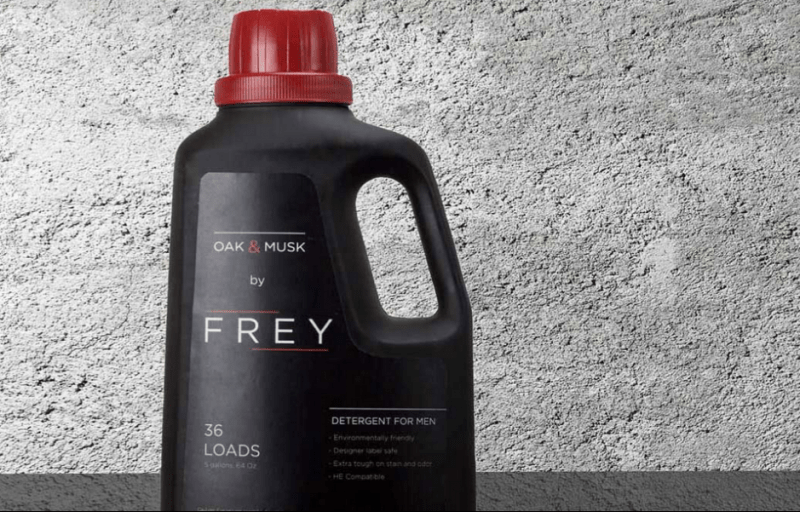 If your perception of reality were rooted in television commercials, you might assume that men are incapable of doing laundry. We've seen the same laundry detergent commercial since the dawn of commercials: A young mom, arms akimbo, sighs and shakes her head as she beholds a child's dirt-covered soccer jersey or juice-stained shirt. It's 2016: Maybe it's finally time to market laundry detergent to men — encourage fellas to do the laundry for a change.
That's precisely the thinking behind FREY, the first laundry detergent for men. Deemed "designer-label safe," FREY is ideally suited to cleaning classy men's garments without inflicting damage. And instead of imbuing clothing with a vaguely chemical scent, FREY leaves a classically masculine oak and musk scent.
Related: How to Remove Sweat Stains from Dress Shirts
That's all well and good, but what makes FREY truly Feel Good Friday-worthy is the fact that 10% of their profits go straight to charity. Organizations like the Wounded Warrior Project, Americares, the Breast Cancer Research Foundation, and the Movember Foundation benefit from FREY's generosity. The planet also benefits, as FREY has opted out of using brighteners, phosphates, bleaches, and other chemicals that are harmful to the environment.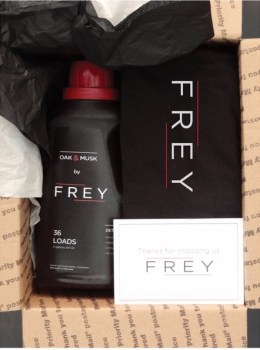 FREY is the product of a successful Kickstarter campaign launched by brothers Erin and Leif Frey. Originally called REAL, the name was changed to FREY as business took off. I was fortunate enough to give FREY a test run, and was very pleased with the results. FREY is a bit more viscous than your average laundry detergent, but it gets the job done, and leaves one's clothes with the gentle essence of oak, sandalwood, musk, and other appealing scents.
Though FREY is marketed toward men, there's no reason why women can't enjoy it. And considering the company's charitable and environmentally friendly practices, there's a lot to gain from making FREY your go-to detergent.
FREY Oak & Musk: $20 for one bottle, $32 for two
Editors' Recommendations