The garment industry is hard to understand. You'd think it would be cheaper and more practical to make garments in the same place they're sold, but no; somehow, it's cheaper to ship raw materials overseas for manufacture, then ship them back for consumption. That's not the whole story, of course; this practice yields many more costs that don't show up in a profit/loss statement — for instance, the environmental cost of shipping, the social impact of underpaying overseas employees, and the lost employment opportunities in the U.S.
The unseen costs of overseas production is one big reason why The Manual is such a big supporter of brands that make their products here in the U.S. of A. One such brand is Duckworth Wool, which takes the exquisite wool from Montana sheep, spins it into outstanding wool garments, and sells it chiefly to American consumers.
We know what you're thinking — wool is itchy, cumbersome, and old-fashioned. Well, Duckworth doesn't use just any wool, but 100% Helle Rambouillet merino wool from the Rockies of Southwestern Montana. Their humanely raised sheep graze free-range at an elevation of 9,500 feet, in a unique climate that makes their wool tightly crimped and thus well suited for high-quality wool garments.
Related: Feel Good Friday: The 30-Year Sweatshirt
Once Duckworth harvests wool from their happy sheep, they send it down to the Carolinas, historically the epicenter of the U.S. textile industry. Using a mix of traditional and innovative techniques, Duckworth's reasonably paid employees make all kinds of amazing garments for men and women.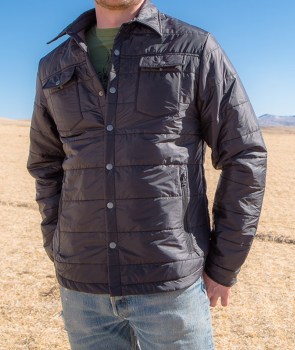 Ingenious use of heat, water, and pressure make Duckworth wool garments soft, breathable, and resistant to shrinkage. Whether you're looking for a pair of boxers or a heavy shirt, you'll find that Duckworth spins magic into their wool items. This isn't the itchy, stiff wool you're used to — in fact, some of their garments are virtually indistinguishable from silk.
Duckworth's motto is acta non verba, Latin for "deeds not words." By virtue of their humane treatment of sheep, commitment to American manufacturing, and fair treatment of employees, it's safe to say that Duckworth lives up to its motto.
Editors' Recommendations