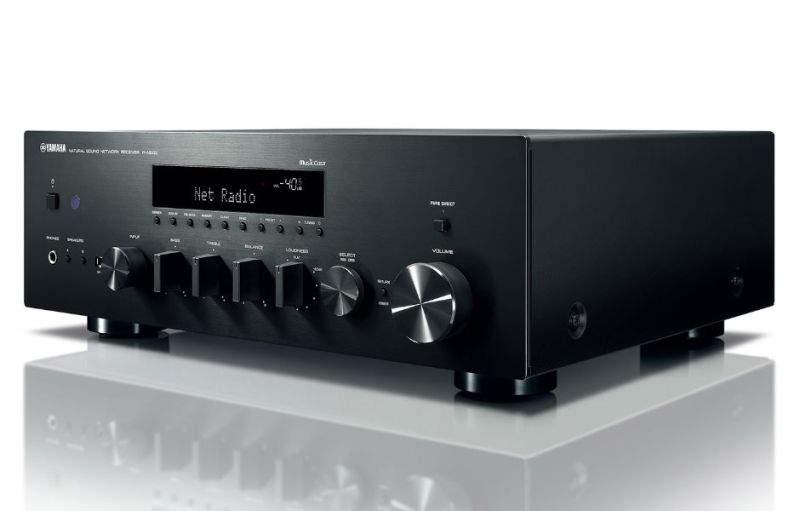 Yamaha's powerful new multiroom audio platform, MusicCast, has yet another new family member. This week Yamaha released the R-N602, the latest network receiver capable of integrating with a whole host of Yamaha audio components for a seamless whole-home music experience.
Priced at a suggested $650, the dual-channel N602 is priced to move, and it's got plenty of tricks up its sleeve. That includes the ability to stream high-resolution tracks at up to 24bit/192kHz resolution, as well as native DSD files at 2.8MHz and 5.6MHz from a computer or NAS storage drive. And thanks to MusicCast, the component can then beam those tunes — along with virtually anything else connected to your system, from your TV to your turntable — to any compatible MusicCast speaker over Wi-Fi.
Related: Yamaha's YSP-5600 is the Rolls Royce of sound bars
While MusicCast speakers are just hitting the market, Yamaha has added some impressive pieces to the party already, partnering the debut WX-30 mono speaker with the audiophile-grade NX-N500 desktop speakers last month. The company has plans to release 20 components in all, including a bank-busting Dobly Atmos sound bar coming in December for $1,700. Each piece in the MusicCast system is able to use receivers like the R-N602 as a high-resolution wireless hub to stream to any room in your home.
Of course, MusicCast is just one piece of the R-N602 puzzle. The receiver comes complete with on-board support for Pandora, Spotify, and Rhapsody, Bluetooth or Airplay connection for even more ways to stream, and even the ability to re-stream Bluetooth signals to other speakers outside of the MusicCast family. Other features include nine total inputs — including four digital, and 5 RCA analog — along with dual-zone wired output.
Power for the receiver is supplied by dual independent power supplies for analog and digital sound sources, and the unit also boasts Yamaha's Total Purity Audio Reproduction Technology (ToP-ART) to add some razzle-dazzle to your low resolution audio files.
Yamaha's new R-N602 network Hi-Fi receiver is available now at authorized Yamaha dealers.
This post first appeared on our "brother site" Digital Trends.