Being met curbside at the airport by a Lamborghini has to be one of the greatest moments of my life.
As I walked out of the baggage claim area of SFO two weeks ago, I found a bright orange Aventador waiting for me. The driver's door lifted, people started to stare, and I just had to pause and snap a picture. If I didn't, I worried the moment would slip from my memory in all the excitement.
I had been flown down to the Bay Area by Lamborghini to attend the 2014 Pebble Beach Concours d'Elegance. I was staying around two-and-a-half hours south of the airport but had 10 hours before I had to turn the car in. Doing what any guy would do, I threw my stuff into the wedge of Italian carbon fiber and headed for the hills.
Playlist
Before I set out on my trip down to San Francisco to drive the 2015 Lamborghini Aventador, I got on iTunes and searched for the word "Lamborghini."
To my surprise, this search presented many results. Who would have guessed that so many songs have been written about Lamborghini? Certainly not me.
After many minutes wading through some absolute garbage, I settled on a few winners, made my purchase, and created a playlist on my iPhone I lovingly titled "Lambo Jams."
Before I go any further, I think you ought hear what I was bumping when I dropped behind the wheel of the Aventador at SFO:
1. Lamborghini – Phoebe Legere
2. Lamborghini (feat. Fantaci) – BBSR
5. Lamborghini – Playya 1000 & The Deeksta
6. Lamborghini (Original Mix) – Turbo Turbo
7. Lamborghini (feat. Juice Ralph) – Tity Boi
8. Lamborghini – Trance Groove
Arguably, most of these songs are downright terrible. And I think you'll agree. Amazingly, however, these songs suddenly become very, very good while pouring out of the speakers of a Lamborghini.
The songs about being in a Lamborghini and how wonderful it is, like Phoebe Legere's song, were especially good with the thrum of a 700-horsepower Italian V12 behind my head, as I rocketed down the scenic highways of Northern California.
There's something about combining the jubilation of being behind the wheel of a Lambo while listening to people sing and rap about that same feeling that multiplies the excitement and joy. I felt super excited to be driving it, but having someone put to words – and a tune – exactly what I was feeling made it that much better.
Going places
If you're keen to know what exactly it's like to drive a Lamborghini Aventador, I'll direct you to my first drive report on Digital Trends. Here, I'd like to focus more on the experience of being in the car.
After a rollicking romp through the hills – OK that's not fair to the car. It wasn't a romp; it was a full-bore, ear-thrashing hammering. After my full-throttle escapade in the hills ended, I made my way down into Santa Cruz to find a gas station. Imagine my surprise that I'd burned through some 18 gallons of gas in less than a few hundred miles.
As I neared town, I hit traffic. That's when the gawking and rubbernecking began. I thought I'd grown accustomed to being seen in supercars. The attention I gleaned in the Aventador, however, was unworldly. Thankfully, I was wearing my trusty pair of Shwood sunglasses, otherwise, I might have been blinded by all the iPhone flashes.
Men, women, and children all wanted to look at the car. Families rerouted their daily routines so that they could get a glimpse of the car. Thankfully, the roof is so low, the windows so small and dark that no one could tell that I wasn't a celebrity. I hunkered down and let them assume I was somebody special.
In the Ferrari 458 Spider, people seemed to get mad at me – especially middle-aged white men. In the Aventador, though, people were happy for me; they were proud. Rather than cut me off and get piss-y that they didn't, too, have a Lambo at their disposal, people were gracious and threw thumbs-up at the car and me.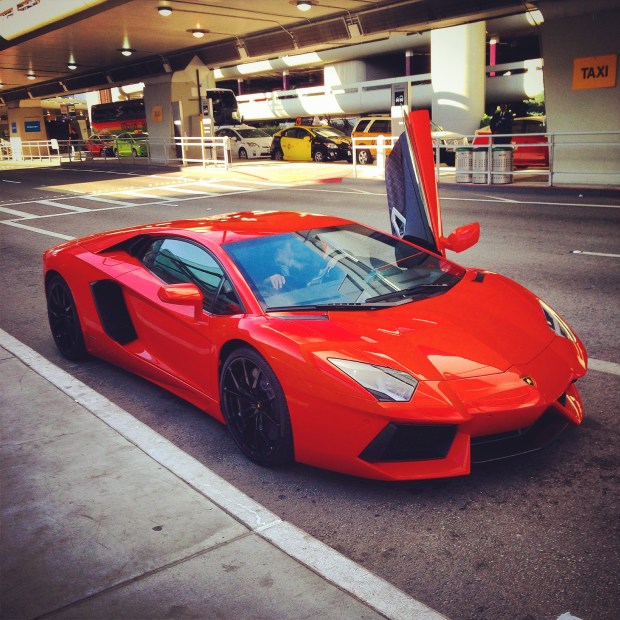 The Hotel
Perhaps the most amusing reaction I received during my time with the Aventador was when I pulled up to the Inn at Spanish Bay in Pebble Beach. Although there were a half-dozen or so other supercars lined up in front of the place, I was still greeted like Michael Jordan, Elvis, and Buzz Aldren all rolled into one.
The throng of people who crowded around me was both surprising and a bit intimidating. Amusingly, however, when I threw the door up and the Valet leaned in to greet me, the first thing he noticed and commented on was my watch.
"Oh, a Daniel Wellington. Nice."
Fully taken aback, I had no response for the fellow. I was climbing out of a $400,000 orange Lamborghini and he notices my $200 watch. Go figure.
Said and done
Having now driven virtually every major supercar on the market, I can say that Lamborghini is perhaps my favorite. It's my favorite not because its cars are very good, which they are, but because of how they make you feel.
I've often reminded people, just because you can afford a supercar doesn't mean you can drive it. Unlike some of its competitors, which will remain nameless here for my own self-preservation, the Aventador is seriously as much fun at 80 mph on a rolling, windy mountain road as it is at 15 mph in traffic.
Behind the wheel of a Lamborghini, you not only feel like a world-conquering alpha male, you're also perceived as one – in the best way possible.
Editors' Recommendations