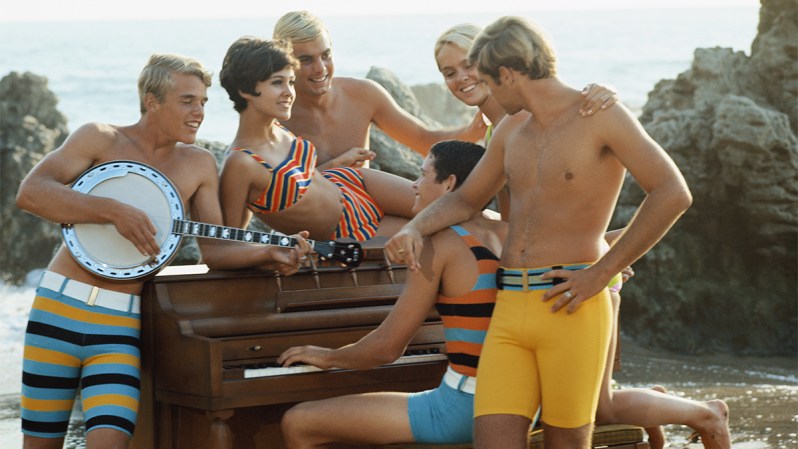 As we slowly emerge from the dark cave of winter hibernation, the water (be it beach, pool, lake, or river), is beckoning us to come play, drink refreshing libations, and relax. Using a patent-pending, molecular-level design process, we here at The Manual have created the ideal sun-drenched musical accompaniment for all your hydro-adjacent recreational needs. After basking in the warm glow of some opening downtempo instrumental grooves, this playlist gently builds up to a nice little upbeat beach/pool party. And since we use only the freshest tunes, you can feel confident knowing that whatever shoreline you find yourself on will be sonically soaked in this subaquatic soundtrack. Though always challenging to pick a few apples from the intricately woven basket, some highlights are featured below.
"Poolside Bar" by Bonus Points
Hailing from Wildwood, Missouri, Bonus Points (aka Chris Burkart) is creating hip-hop-based thematic jams at a ferocious pace. Cocktail in hand, Bonus Points delivers the quintessential waterside playlist opener in the form of "Poolside Bar." Off his 2016 album, Seaside Suite, "Poolside Bar" is a funky, soul-tinged journey that is so well-named one could easily imagine a Mai Tai in hand while saddling up to a submerged bar stool in a massive grotto-style labyrinth of a pool.
"Gooey (Stripped)" by Glass Animals
The original version of this killer downtempo track by England's Glass Animals is the bomb, but this stripped-down version makes the gooeyness drip with even more sensuality while flowing ever so perfectly down the serpentine river of this mix. Young, inventive, and boundary-pushing, Glass Animals has found a unique sound with which to feature Dave Bayley's soaring yet laid-back falsetto vocals and offbeat lyrical content.
"Harvest Moon" by Poolside
Not sure if Neil Young, the author and original recording artist of "Harvest Moon" is down with this dreamy, light-hearted, dance-based version of his heartfelt meditation on love, but, damn, we dig it deeply. With a moniker that demands inclusion before the playlist is even created, Poolside is the optimal vehicle with which to chill, hang, and ever-so-gently rock out when poolside. Bonus: The band's mix "Contact High Mixtape" furthers the argument that Poolside may very well be the most appropriately named band of all time.
"Rising Water" by James Vincent McMorrow
Ireland's James Vincent McMorrow has tapped into a vibe that feels both super fresh and futuristic yet historic and comforting as he abandons his car a mile from nowhere. Ringing the tempo bell with the most BPM (beats per minute) of any track on the mix, "Rising Water" is an anomaly of churning, old-school soul blended with a straight ahead '80s pop bass line and McMorrow's lilting James Blake-esque voice. It reminds us of older songs that evoke a time and a place so specifically that they become part of our culture's collective chemical makeup.
"The Outcast" by DJ Tennis & PillowTalk
Another song that is included more for vibe than lyrical content/title, "The Outcast" provides a rather innovative dystopian take on where we're headed as a planet. Lyrics aside, the tune itself has a sweet, whispered percussion track; big, round, beefy bass; and ethereal, otherworldly vocals which float around this wandering mystical sojourn like a hawk hovering over a windswept beach. Deep House superheroes, DJ Tennis (Milan) and PillowTalk (San Francisco), always deliver near perfect songs and sets. It's excellent to see them combine their efforts to such great ends.
May this mix complement whatever body of water you find yourself beside (real or figurative) and help you leave life's stresses behind in the parking lot. Salud!
Editors' Recommendations