Let's be real, in terms of indoor plants, the most we're lucky to have is a ficus in the window that we continually forget to water. But what if we could live in a vertical forest, lush and boiling over with foliage?
As humans, we benefit from vegetative, green environments both physically and psychologically. A plethora of studies have explored the benefits of having indoor plants (Texas A&M University found that people who spend time caring for nature are more likely to care for others). There's even a restorative treatment called Forest Therapy that involves spending time in wooded areas for the purpose of enhancing health, wellness, and happiness.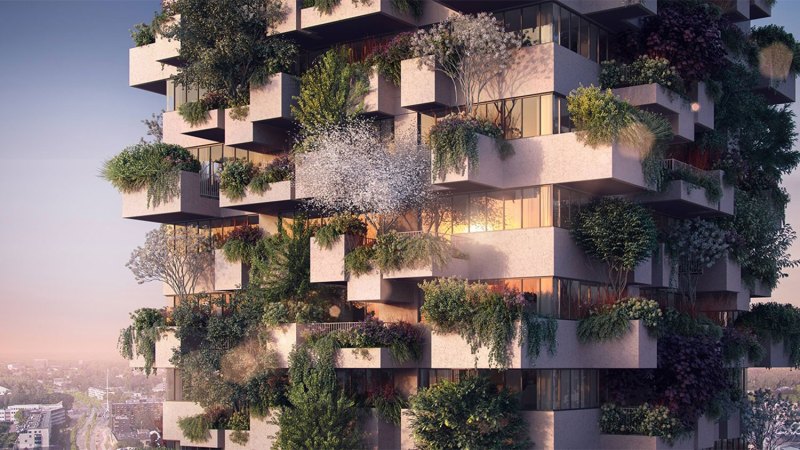 A new social housing project by Stefano Boeri Architetti is capitalizing on this eco-nomenon. Trudo Vertical Forest in Eindhoven, Netherlands, mimics a traditional apartment building with 125 social housing units over 19 floors. The building was designed to house lower-income social groups, particularly young people.
The unique aspect? Each apartment balcony is filled with trees, plants, and shrubs, turning affordable housing into a living vertical forest. More than 5,200 shrubs and 125 trees will be planted with the goal of counteracting pollution by absorbing carbon dioxide and facilitating biodiversity within the southern municipality by building an ecosystem of 70-plus different species.
"Vertical Forest helps to build a micro-climate and to filter dust particles which are present in the urban environment," the firm explains on the website. "The diversity of the plants helps to create humidity and absorbs CO2 and dust, produces oxygen, protects people and houses from harmful sun rays and from acoustic pollution."
Stefano Boeri Architetti — founded by the Italian architect, urban planner, and namesake Stefano Boeri — is among the first to incorporate vertical forests into the design process. The firm is passionate about new parks, gardens, and green facades that can help reverse the effects of pollution in crowded cities. With its vision, the buzzing metropolises of the modern world will not only look like forests in the sky, but allow their citizens to breathe easier.
"Vertical Forest is a model for a sustainable residential building, a project for metropolitan reforestation contributing to the regeneration of the environment and urban biodiversity without the implication of expanding the city upon the territory," says the firm.
The first example of the Vertical Forest (Bosco Verticale) was realized in the heart of Milan. Stefano Boeri Architetti says on flat land, each version equals an area of 20,000 square meters, or 4.9 acres, of forest — in the middle of a city. Better yet, the new project in Eindhoven is a movement toward making this type of restorative eco-architecture available to everyone. Now we just need to figure how to move to the Netherlands …
Editors' Recommendations