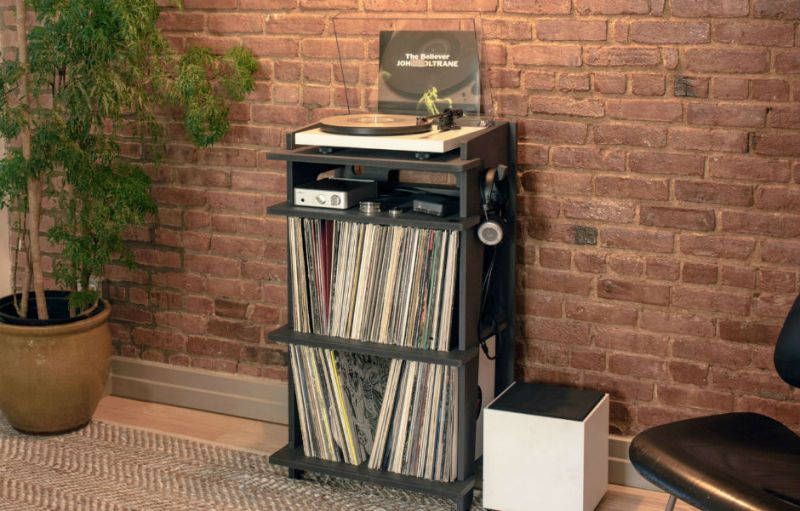 As Spotify, Apple Music, and others jockey for position, it seems not a day goes by without some kind of new development in the world of streaming music. Yet, despite our perpetual plunge into the digital age, vinyl — the same format your grandpa enjoyed before the calculator was invented — is hotter than ever. A new Kickstarter venture is hoping to capitalize on vinyl's renaissance, offering a clever way to put newly purchased turntables and carefully curated stacks of wax on display in a space-saving monolith simply called: Turntable Station.
While IKEA is happy to provide you with a four square stand to house your turntable and records, Line Phono's Turntable Station is a pretty slick way to manage a smaller footprint for your retro setup. The four-story tower takes up only 2.6 square feet, while providing two floors of storage for your record collection. Line Phono claims the Station can hold up to 200 albums — perhaps not suitable for the High Fidelity-style vinyl fanatic, but just about perfect for the newly initiated analog enthusiast.
Related: Make that turntable sing with Yamaha's A-S1100 integrated amplifier
Above the record slots, the Station provides two more shelves, including a tidy space to house your amplifier, record brush, and turntable pre-amp (if needed), and of course a topside for the spinner itself. As the piece is designed around a minimalist approach, the amp shelf won't house a massive tube amp or network receiver. Instead, it is set up for a more elegant solution, such as the recently discounted Sprout digital amplifier we fell for last year. (In fact, it appears that's exactly what's being displayed in the company's promo shots.) Of course, if you do have a larger amp, as Line Phono points out, you can always rest it on the second shelf.
The Station's $350 price point is a serious pill to swallow for most buyers, but there are some other clever features built into the piece that make it a coveted addition to the audiophile inside. Those include a headphone/cablehook on the right side, convenient holes at the back for cable management, record stops built into the back of the shelves, and even "now spinning" slots to display your vinyl artwork du jour. The console is constructed from rigid MDF wood and weighs 45 lbs.
The Turntable Station will retail at $400, but at time of publication there were still units available at the special second Early Bird price of $330. With $70,000 raised at press time, and 25 days left to go, the console is well on its way to exceeding its $100,000 funding goal. If you're looking for a sleek and simple way to house your growing vinyl setup, you can pledge at Turntable Station's Kickstarter page now.
A version of this post was first published on our "brother site" Digital Trends.
Editors' Recommendations