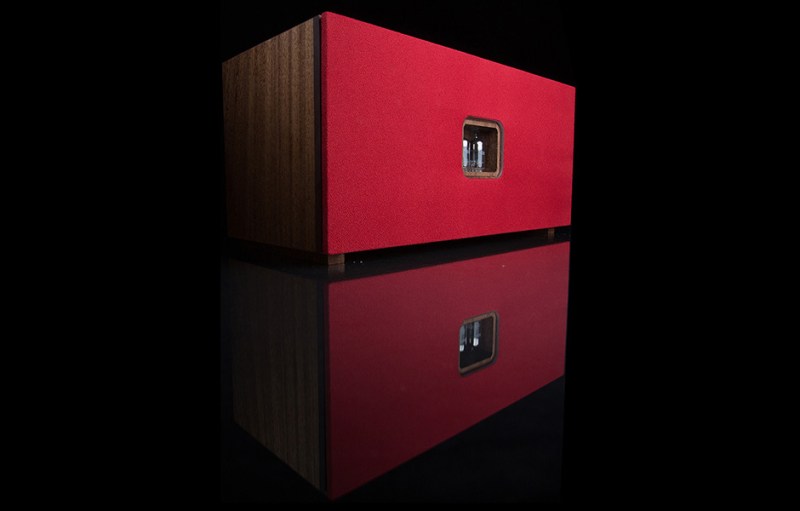 Here's a little nugget of knowledge professional musicians, recording engineers and audiofiles have known for decades: When it comes to amazing sound, nothing beats tubes. Sure, modern technology has lead to amazing advancements in digital amplification, but nothing sounds smoother and richer than tube-based audio gear. Now, a brand-new company out of Maryland is marrying the decidedly analog implement into a modern, wireless speaker that bound in hardwood harmony. Check out the Tubecore Duo.
The Duo started out as a Kickstarter project, and since blowing past its funding goal, it's seen lots of little improvements and refinements leading up until now. This speaker is crazy customizable: choose between over 30 different speaker grill colors (or use no grill at all), pick your favorite of four different kinds of vacuum tubes, and, finally, pick your computer. Yeah, that's right: The Duo speaker comes with a computer inside running XBMC, a media center software that lets you browse and play movies and music stored on your network or an external hard drive. Just hook the Duo up to your television and let the magic begin.
Of course, the ability to play movies is fun, but this speaker is designed to sound superb while playing music, and that's where those tubes come in. The tubes live in the pre-amp stage, so they can smooth out the rough edges of digital music before its sent on to a class A/B amplifier. What that all means is that your music will sound warm, clear and vibrant, no matter what volume you're playing at. Plus, there's something hypnotic about the warm glow of a vacuum tube in a dark room filled with your favorite tunes.
The Duo starts at $649, but you can get one for as little as $479 with a pre-order discount at Tubecore's website right now. Duo speakers are due to ship in June, according to Tubecore.