When Will Dean formulated the idea for the Tough Mudder obstacle race roughly six years ago while studying at Harvard Business School, the concept for the event merely achieved semifinalist status in the school's annual business plan competition. Today, the extremely demanding challenge enjoys a worldwide reach and has reportedly hosted more than two million participants. Not bad for a semifinalist, huh?
Related: We ran the Rugged Maniac obstacle race and lived to tell about it
Considering Tough Mudder's steady growth in popularity, we here at The Manual were quick to jump at an opportunity to give this grueling challenge an earnest try. Thanks to the men's grooming brand Old Spice, this desire to be covered head to toe in mud was not only fulfilled but done so in style — well, as stylish as you can be caked in said mud.
So, next thing we knew we were on a flight to Cincinnati to learn more about the brand, its history, and its new Hardest Working Collection, and to run the Tough Mudder at the legendary Kentucky Speedway.
And yes, the Old Spice guy himself, Isaiah Mustafa, was there, cheering the group from start to strenuous finish — and to see firsthand just how well Old Spice's newest collection faired in the muddiest of conditions.
Before we jump into what it was like to physically run the course, here's the skinny on what makes the Tough Mudder so, well, tough. For starters, the challenge itself spans 10.7 miles of pseudo-trail running terrain which takes you through ponds and forests, over long stretches of pavement, and up and down many, many hills — if you couldn't tell, there's an emphasis on many.
Across these 10.7 miles, the Tough Mudder crew scattered 21 various obstacles designed to test each runner's physical strength, mental determination, and overall endurance. Be it the Arctic Enema which sees participants submerge in frigid, ice cube-chilled water or the teamwork-heavy Warrior Carry, everyone's will to trudge on was pushed to the absolute limit at nearly every turn.
Luckily, the name of the game at Tough Mudder is teamwork. At nearly every obstacle, runners of all skill levels were helping other Tough Mudders over, under, or through obstacles as best they could. This wasn't considered a race; it was a challenge.
If the mileage, rolling hills, and unrelenting obstacles weren't enough — lest we forget, it was also in the low 90s — the Tough Mudder event saved perhaps its best move for last: an obstacle called Electroshock Therapy. Essentially living up to its namesake, Electroshock Therapy consists of hundreds of live electrical wires each runner must deftly navigate through while avoiding getting shocked. Of course, muddy water and slippery footing are also in attendance to assure each participant isn't comfortable with just slowly making his or her way through the wires. Thing is, you will get shocked, no doubt — right in front of an entire group of spectators, too.
Despite how tall many of these tasks appeared to be, we weren't the least bit dissuaded of our interest in running the event. Were we a little crazy in thinking it wouldn't be much harder than last year's Rugged Maniac race? Probably. But regardless of our fabricated confidence, there we were doing pre-race jumping jacks with Isaiah Mustafa in the blazing Kentucky heat, eager to dive head first into a pool of mud.
As the race began and our heat of roughly 100 people set out to have their tempers tested by the Tough Mudder, giddy excitement filled the air. The heat beat relentlessly down, sure, but considering the first obstacle was a light swim across a small pond, no one was complaining — not yet, at least. We traversed through muddy water and over slippery slopes, jumped over hay bails and tested our upper body strength on the Everest 2.0. Four miles had passed by and with the help of the others recruited by Old Spice, we were enjoying a healthy pace.
Yet, in the back of our mind we remembered one thing: Are we really going to make it 10.7 miles? Don't get us wrong, we entered the Tough Mudder in decent shape (albeit without directly training for the event) and had a handful of obstacle races, half marathons, and the like under our belts but the fact remained that our breath was getting heavier about a third of the way in.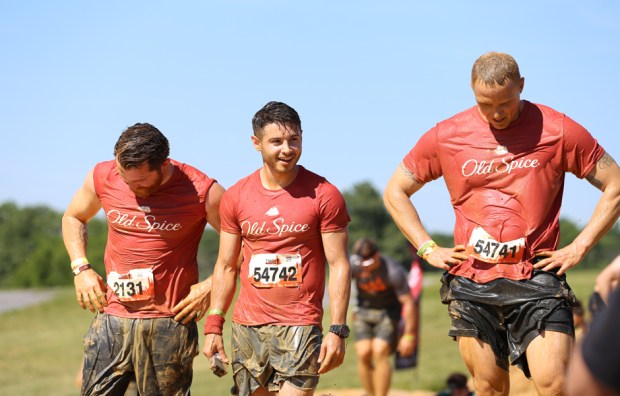 But press on we did, climbing even higher walls and building human ladders, carrying awkwardly shaped logs and crawling under expertly placed barbed wire. As the miles accumulated and the Kentucky sun heated up, we inched closer to the long sought after (and seemingly fictitious) finish line. After just over three hours and twenty minutes of traversing the rigorous course, the home stretch was there — granted, with one final obstacle standing between us and mud-soaked glory: the aforementioned Electroshock Therapy.
While the header image attached to this story depicts the somewhat strategic way in which we navigated through these live wires, the actual real-life execution was a tad less graceful. For starters, there's absolutely no right way through the wires. Unless you took baby steps at every turn, your chance of hitting at least one wire sat at roughly 100 percent. So as we barreled through the obstacle — of which Tough Mudder claims boasts 10,000 volts of electricity — the feeling of a sudden shock was inevitable.
Then it happened.
Roughly halfway through the sea of wires, we were hit. Like a bolt of lightning zeroed in on our left arm, the shock staggered us and as we regained our muddy footing the only thing running through our head was "just get to the end." Be it a stroke of luck or a perfectly chosen path, this one encounter with a hair-straightening wire was our lone shock before exiting the obstacle.
After a few more steps through muddy water and a uproaring cheer from the crowd of onlookers, we crossed the Tough Mudder finish line, slapped on our official Tough Mudder headband, and had officially completed the punishing challenge. Coated head-to-toe in well-earned mud, we guzzled down a bottle of ice cold water before grabbing a cup of what we really couldn't wait to enjoy; a nice cold glass of refreshing beer. We more than deserved one.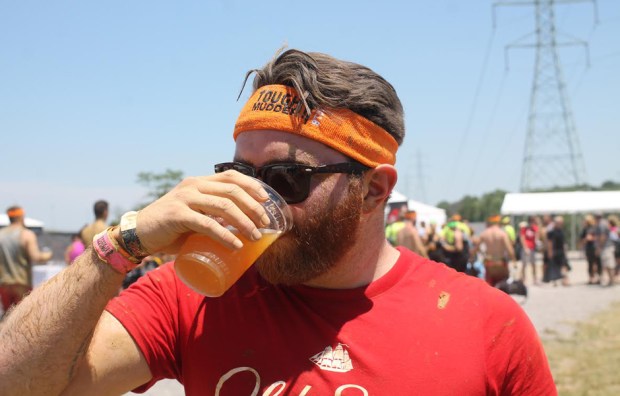 While our recollection of the race may appear as though we trudged through hell and back, it's hard to genuinely convey just how rewarding and incredible the race was through a series of published words. Was it incredibly difficult? Yes. Was it also one of the most satisfying things we've ever accomplished? Absolutely. Be it the joy of saying "I've run a Tough Mudder" or the incredible group of people who helped push us along the way, the experience was priceless.
It'd be a travesty not to wholly recommend the Tough Mudder challenge to anyone even slightly interested in obstacle races — it's one of the most gratifying things you'll ever accomplish. Guaranteed.