Man isn't meant to stay indoors — our weekly "Trekking" column can attest to that. It's a column dedicated to the adventurer inside of all of us, the one pining to ditch the office humdrum for a quick surf session or seven-week jaunt in the Grand Tetons. One day we may highlight an ultra-light stove and the next a set of handmade canoe paddles. Life doesn't just happen inside the workplace, so get outside and live it.
Everyone loves the thought of a towable camper — perhaps that's why the market for teardrop trailers has increased substantially in the last couple years or so. They've become the go-to option for those who yearn for more than tent but still don't want to throw down on a fully-loaded RV, after all, the necessary cash and space required for the latter is enough to leave many of us completely broke (or in debt). That said, most towable trailers also require a more robust vehicle to ferry them along, one often capable of hauling an upward of 3,500. Thankfully, the Timberleaf Trailer ($15,250+) was specifically designed to accommodate less-capable vehicles… like your Subaru.
Related: Yes, the roof of this trailer moonlights as a small, dedicated row boat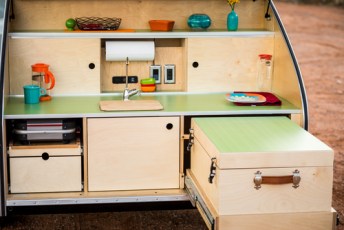 When it comes to design, stock components and accessories simply weren't an option. The folks at Timberleaf have years of fine woodworking under their belt, and as such, they built many of the trailer's features to achieve the exact counter height and feel they wanted. The luscious, birch-lined galley — which discretely rests beneath a folding panel on the rear — comes outfitted with a host of hand-made amenities, including a pull-out drawer and cooktop shelf, running lights, a sink, and an optional cooler line that was built from the ground up to fit the trailer. The latter showcases the same ice-retention properties as today's leading brands, and even comes with genuine leather handles and dovetail joinery for an added touch of class.
Inside, you'll find the same attention to detail. The cabin is equipped with one of the largest skylights of any teardrop trailer to date, providing unobstructed views of the Milky Way and imbuing the cabin with a more spacious feel. Wooden shelves and customized cubbies line the walls of the interior, which is also conveniently lined with birch and fully insulated with one-inch foam that's designed to keep the heat in and cold out. The space even houses enough room for a custom-made, Colorado queen mattress — which is 3 inches shy of a standard queen, yet still manages to sleep two. The abundance of windows just ensures the wilderness is never far from view.
Check out Tearleaf Trailers online to place an order, or for a complete list of specs.
Editors' Recommendations