I'll admit it, I've said it: if you're going to ride a 3-wheeled motorcycle, why not just get a car?
Add a third wheel to a motorcycle, and until recently, you essentially had a grown-up version of the Radio Flyer you pedaled around the driveway as a wee tyke. Fun, sure, but not red-zone motorcycle fun.
But, like I said, that was "until recently." Fact is, production trikes go back to the 1930s (and certainly earlier) when Harley-Davidson began producing the 750cc "Servi-Car," which, believe it or not, was designed to be towed behind a new car that was being delivered to a customer, unhitched, and then ridden back to the auto dealership. Wash, rinse, repeat. I kid you not.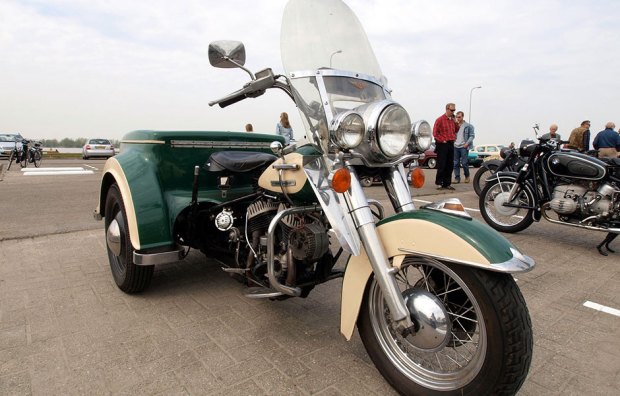 As the years went on, Servi-Cars proved themselves as highly reliable vehicles for any number of jobs requiring something more than a motorcycle but less than a car – from police duty to delivering delicious ice cream to my neighborhood in those bucolic days before ice cream "vans" took over that duty. Fortunately, Servi-Cars are still popular and you can still find them on the used and collector markets.
Along the way, riders who couldn't ride two-wheelers (many of them injured war veterans) turned Servi-Cars into true road-going concerns, and eventually, Harley and other began offering a purpose-made big-boy trike called the Tri Glide, which is still in the lineup. They are also popular among women riders, and riders who never actually learned to ride a two-wheeled bike but still wanted a motorcycle-type experience. Trike on, friends, who am I to judge?
But in 2007, the folks at Can-Am, known for their dirt bikes of yore and now part of the massive Bombardier conglomerate, birthed the Spyder, a rather curious mix of motorcycle, jet-ski, quad and big horsepower. This was not your grandpappy's (or grandmammy's) trike.
Can-Am pushed the two rear wheels to the front, vastly improving handling, and slotted in a 1,000cc powerplant – which has grown to a 1,330cc triple over the years. Car-like tires wrapped around modern wheels and brakes, and the Spyder both went like stink and stuck like glue. However, they were not cheap.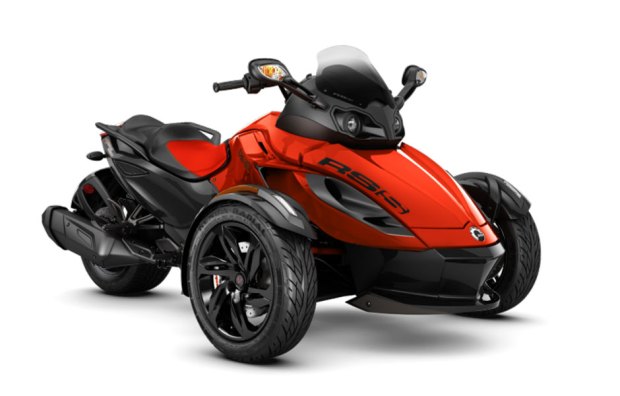 In 2007, they sold poorly.
Flash forward almost 10 years, and while it's a stretch to say Spyders (and similar rigs like the Polaris Slingshot) are "everywhere," they are most certainly popular now, with Can-Am delivering the 100,000th unit in 2015. All the while, Can-Am has been upping the performance, tech and amenities of the Spyder. ABS, traction control, push-button shifting, full-on tour models and a slate of other configurations now roll down city streets and open highways.
They still look very different from motorcycles, but in more of a holy-crap-what-the-hell-is-that-cool-rig kind of way. They can look a bit like 3-wheeled Batmobiles, and I mean that with a high degree of praise.
I got to ride a Spyder recently, and while I miss the dynamics (especially when turning) of a motorcycle, I can say that it was a total hoot to ride. There is so much traction you feel as if you can do no wrong (but trust me, you definitely can), and you still get what I would call a real motorcycle experience, especially on the sporty models. And, of course, they look like nothing else on the road.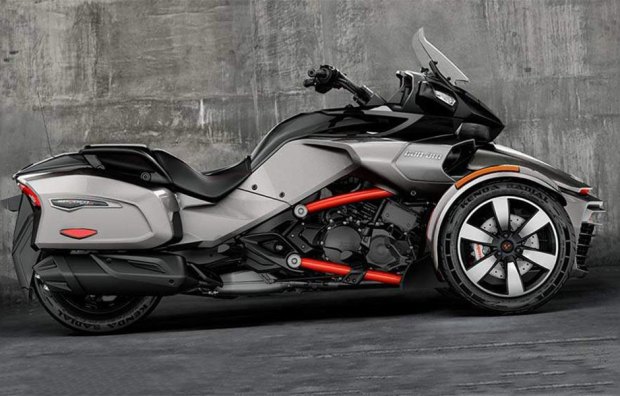 Now, Honda is getting into the game with the Neowing, a performance reverse trike somewhat like the Spyder, but with their big pancake six from the Goldwing providing power. Also: it leans, similar to the Paiggio MP3 scooters, but with a bit wider track. Yamaha has also shown an even more radical mantis-like leanable trike as well, and claims they're going to bring it to market.
Honda, Yamaha, Polaris, Can-Am, Piaggio, Harley-Davidson. Suddenly, there's a whole roster of companies going adding an extra wheel to their bikes, and often in revolutionary and exciting ways.
Would you ride one? If you still think a trike almost equals a car, you're missing out on a whole lot of fun – and traction.