I'll just admit it up front: When it comes to motorcycles, I'm not a fringe guy. Or, much of a cruiser guy. The little strips of leather blowing in the wind around the borders of seats, saddlebags and hanging off the handlebars of big V-twin cruisers are just not my speed. I like my bikes lean, clean and without unneeded… frippery.
But when the kind folks at Indian offered to not only let me test-ride a 2015 Indian Chief Vintage, but ride it from Los Angeles to the Bay Area, I of course said yes immediately – even though the dreaded fringe was going to be along for the ride. Why betray my high standards for some seat time on fat and fringed cruiser, a bike pretty much diametrically opposed to everything in my sport-riding mindset? Because it's an Indian, to put it simply.
I've always been fascinated with the history of Indian, due in no small part to their legacy of innovation – and performance. I'll admit I was a bit disappointed when the first models broke cover at Sturgis in 2013. They were all based around yet another V-Twin when parent company Polaris could have easily colored outside the lines and built a brute Four, just as Indian originally did back in 1928. 1928! But Indian's 111-inch Thunder Stroke V-Twin plant is a no-foolin' and great looking torque locomotive, and anytime someone is willing to toss me the keys to a $22,000 bike for a day of unchaperoned riding, especially with a lot of open road in the mix, I'm willing to quickly overlook some errant strands of tan leather and something as inconsequential as engine configuration. Now, where's my helmet?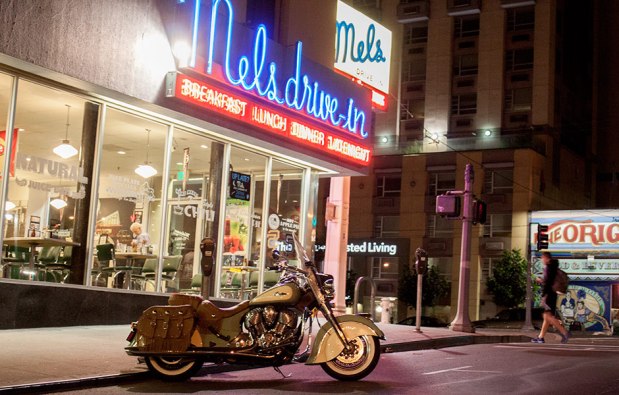 I saddled up the Vintage shortly after returning from riding the lighter-weight Scout, and began the slow crawl towards the 405 in Los Angeles. The Vintage is essentially the Chief base platform gussied up with some chrome trim, a quick-release windscreen and quick-release saddlebags. With fringe. The tan leather seat also featured the fluttering strands of cow skin, but oh well. Must. Not. Obsess.
Getting under way, clutch play on the big Vintage is both low effort and buttery smooth, and really, in creeping traffic, throttle operation is optional. According to the digital numerical tach readout tucked in the LCD panel inside the big tank-mounted speedometer, the big lump turns over at just 800rpm at idle. Distinctive bump bump bump sensations and a muted exhaust note from the 2-1-2 exhaust system remind you there's a potent fire down below without setting off car alarms or cager rage, but underway, the engine is super smooth, with just enough friendly vibes and exhaust music to remind you some very big slugs are reciprocating just inches away from your privates.
Once on the 405 freeway, traffic goes from a crawl to about 40, and finally, everyone decides 65 seems to the right pace, probably since since the speed limit is posted as 50. Immediately, three things about the big Indian become apparent: the engine is fantastic, the seat is just about perfect and a bike this size really has no right to handle as well as this one does.
When the inevitable SoCal cell-chatting driver heads into my lane, the Vintage's triple disc brakes with ABS (standard on all Indian models) provide solid braking power and a surprising amount of feel. Wind buffeting off the tall windscreen starts to shake my helmet above about 75mph, but it's not terrible and I'm rarely going that fast anyway. And if I want to, it's a twist away as the big motor seems to have a limitless liquid core of torque.
Despite the fringe, there's no doubt this is a great-looking motorcycle. I'm riding one of the new 2015 models and this year, there are some two-tone paint options. I've got what Indian calls Willow Green and Ivory Cream, and while I'd probably opt for basic black, red or the very attractive red and black combo, I have to admit the bright colors are rich and attractive. But I must be in the minority on color choice, because whenever I stop, the bike gets compliments on the colors, the classic valanced fenders, the look, and the fringe. "Love the fringe," a grandma says with a wink as I gas up in Pismo Beach. I grit my teeth and say thanks.
Polaris… er, Indian, has mated the torquey Thunder Stroke engine to a 6-speed gearbox with 6th being a true overdrive. Rolling north on trafficky Highway 1, I rarely get the Vintage into 5th gear, let alone 6th, and the gearbox action is slick without being too slick; it still requires some lever effort to notch the next gear, but as cruisers go, its one of the best gearboxes I've used.
In San Luis Obispo, I'm faced with an option: continue up the winding Highway 1 into the unpopulated (and gas-station free) Los Padres National Forest area as the sunlight quickly fades, or pick up the less-exciting Highway 101 and roll worry-free into the Bay Area. A quick weather check shows a possibility of some rain along the way, and I opt for the 101 instead of taking my chances on a slickened, twisting, unlit coast-hugging two-laner. At night.
One thing my relatively short jaunt on the rutted and serpentine Highway 1 has shown is that the Vintage has a praise-worthy suspension that seems to strike a good balance between sucking up the hits without turning the bike into a wallowing mess in the corners. But, like most cruisers, it does have a deficit of cornering clearance. It's not terrible, but tackling corners aggressively is not this bike's strong point, although it must be said that before the hard parts begin scraping, the big Vintage is plenty stable with neutral steering and no hinge-in-the-middle hysterics when the modern chassis is heeled over near its maximum. For a heavyweight bike, it's truly easy to ride.
But out on the 101, where curves are few and the traffic lightens as the sun sets, cornering clearance is secondary to comfort – and speed. While a backrest would have been nice (it's in the growing accessories catalog), strapping my camera bag to the large leather passenger seat makes for a decent DIY solution. On the right handlebar is an all-important button I make constant use of: cruise control. With the sun dipping down on the left and a pall of clouds rising to the right, I lock down the throttle at 75 and settle in. The City by the Bay lies 240-odd miles away, and my final destination is even beyond that. The Vintage and I are about to get to know each other.
Open road riding is where it's at with the big Chief Vintage. The engine thrums along at 2200rpm and whacking open the throttle to pass trucks results in a snap and crackle from the pipes as the big girl shoots past 80 in no time flat – and that's in 6th gear. Dropping to 5th speeds the process up even more, and there's no reason to go any lower than that as the engine signs off at around 4400rpm (remember: 111 cubic inches). It's all about the torque and if what's on hand doesn't satisfy, you can likely get more with some optional (louder) pipes and an FI remap. But for my purposes, the meal offered is plenty tasty and the exhaust sounds just fine (as in relatively quiet) as I tool down the highway in darkness, the lit "war bonnet" on the front fender proudly helping to light the way.
The Vintage sports the standard cruiser/bagger tri-headlight array up front, with a large central headlight and two outboard running lights. The running light button is on the windscreen mount, so you kind of need to reach up to flick it on, it would be nice if this was handled with a button on either bar cluster. But the two additional lights provide not just more illumination, but a very wide field of light as well. Coupled with a high beam, I've got all the candlepower I need as I speed down the unlit 101.
I roll into San Francisco at about 11:30 p.m. on fumes (gas light on, needle just about on the little peg below E) and in surprisingly heavy traffic. Do they just give away Teslas here? They seem to be everywhere. I sniff out a gas station and tank up, the tripmeter reading 180 miles and the LCD display showing 39.9mpg (and I never got it to break 40 on the whole trip despite trying).
I roll around town and eventually end up at Mel's Diner on Mission Street, stomach grumbling. A local street person drunkenly stumbles by as I'm parking and freezes in place when he spies the Vintage. "That's the most beautiful motorcycle I have ever seen," he says, and he seems to really mean it. But he looks at the tank and registers confusion. "It's a Harley?" he asks. No, I tell him, it's an Indian. More confusion. I give him a highly compressed version of the Indian saga: 1901 to 1953. Shennanigans. Polaris. New bikes. He doesn't seem to hear a word of it as he continues to drink in the bike. "So… it's a Harley?" he asks again. I give him a couple bucks and he goes on his way. "Damn that's a nice bike," he yells as he shuffles off into the darkness.
I grab a window seat in Mel's and watch a parade of locals peruse the Vintage. Several people stop and take photos. One guy gives it a very, very close inspection, maybe a little too close. But I'm not worried about it being stolen. Indian uses a radio-linked key fob for security, there's no ignition to hotwire or stick a screwdriver in, just an oversize computer-like "power" button on top of the tank, perhaps the only styling detail that seems a bit odd. Maybe a chrome button with an embossed "I" in the Indian script? That would seem more in tune with the aesthetic.
Full of fried chicken, mashed potatoes and apple pie, I saddle up one last time for the last leg of my ride on the Vintage. I have to turn the bike in to Arlen Ness' Victory/Indian dealership in Dublin the next morning, so I pick my way through the concrete canyons of downtown as the clock ticks 1 a.m. (on a Tuesday), and finally, the streets of San Francisco are essentially quiet. Light rain begins to fall as the Vintage effortlessly climbs up the Bay Bridge onramp. I set the cruise for 55 and with the big engine barely breathing, tick off the 45 miles to Dublin as slowly as legally possible.
Like I said up top, I'm not really a big cruiser guy – yet. But Indian has cooked up a truly excellent line of big-inch bruisers that combine high style, prodigious power, solid handling and unexpected refinement. The Vintage was a joy to ride; comfortable, capable and classy. If I had the dosh to drop on a cruiser at this price level, the Indian Vintage would be at the top of my list. I'll take mine in red, though, and I'll need a pair of scissors.
All photos by Bill Roberson
Editors' Recommendations