Earlier this year, Honda teased us with a big new dual-sport bike, a prototype they called a "true adventure" machine, and while details then were scarce, adventure riders everywhere were pretty sure that Honda's famous big dual sport, known as the Africa Twin, was about to come ashore in the USA at long last.
For years now, the "adventure riding," "dual sport" or "ADV" segment of motorcycling has been rapidly increasing in popularity, and bike makers, led by BMW, have been responding with an ever-expanding slate of choices for riders looking to combine on and off-road riding in their cross-country or round-the-world adventures.
The one exception: Honda.
To its credit, Honda has made the burly XR650L dual-sport available in the States for decades now, and like Kawasaki's long-running KLR 650, it has largely soldiered on unchanged since the 1980s (Kawi did give the KLR a light update in 2008).
The big air-cooled, carbureted XR650L is a bomber of a bike. It's reliable as a hammer and ready to take on just about anything, and it certainly has its fans. I've ridden one at length and properly set up, it feels like there's nowhere you can't go on the beast.
That said, pretty much every part of the Big El is now woefully outdated, which is odd considering Honda's typically cutting-edge approach to… pretty much everything they make. Odder still: For decades, Honda sold a do-all, be-all 750cc dual sport bike called the Africa Twin in what seemed like every market except America. For whatever reason, while KLRs, DRs, GSs, Tigers and all else were flying off showroom floors and onto dirt roads across the U.S., the Africa Twin remained out of reach for salivating American ADV fans.
No more.
A big new Africa Twin, the 2016 Honda CRF1000L, is headed to America's dirt roads at long last. It grows from 750cc to 998cc, and remains a parallel twin, but that's about the only detail it shares with the old bike, besides having two wheels. The all-new Africa Twin is indeed a technological statement from Honda, as it can be optioned with the latest version of their dual-clutch 6-speed automatic transmission.
Wait, what? An automatic on a dual sport? Blasphemy you say? Hold on there, Ewan, here are the details.
Honda has expanded the tranny's software package to include numerous riding modes (manual, "normal," plus three Sport modes) and a dirt riding mode, and now there are several torque adjustment modes and incline sensing added in as well. There's also something called a "G switch" that more closely ties the transmission to small throttle actions, which will help with controlling the machine off-road.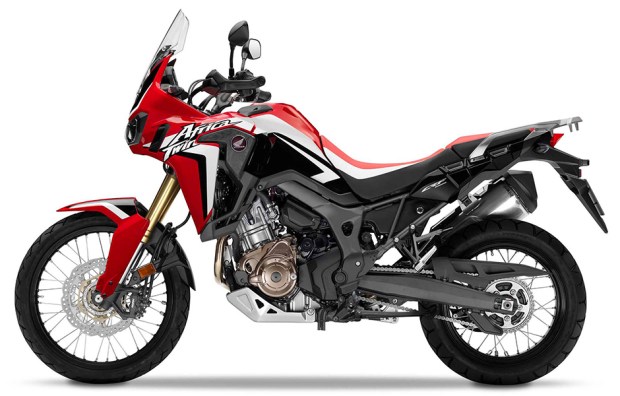 Riding in dirt involves a lot of finesse on the part of the rider (especially with the clutch), so it will be interesting to see how Honda's robot transmission performs under tricky circumstances. I've ridden their CTX bike equipped with the DCT and must say, in a street environment, it was pretty much flawless (and addictive), and that was two generations ago.
Note that you still have "manual" control options for the DCT through bar buttons that allow manual gear changes (within certain parameters – it won't let you stall or over-rev the engine), but all clutch operation is still done by the automatic. So we shall see how the bike responds to mud, hillside starts, sand, and all else the many Long Way 'Rounders out there can throw at it.
Outside of the novel DCT option, the new Twin features optional ABS (it comes with the DCT option), but it can be turned off for the rear wheel to give riders the ability to slip and turn the bike with the rear wheel as is common in off-road riding. The stock tank holds a tick under 5 gallons of juice and while Honda didn't release performance figures, it's hard to tell how fast the 998cc liquid-cooled 8-valve twin will be, but given that it is a Honda, don't expect it to be slow. Also, no pricing has been set but expect it to be in the $15,000 range, the median price point where its competition lives. Typically, the DCT/ABS option adds $1,000 to the price tag.
Other bits of note include a 21 and 18 -inch wheel set, slipper clutch, triple disc "petal" style brakes, and a fueled weight of 503 pounds in base form and 534 pounds with the DCT/ABS option in place. Expect most riders to add on many more pounds of panniers, roll bars, GPS gear, lights, passengers, and so on.
The Africa Twin will arrive early next year in a red/white color scheme or in a silver/black combo. We can hardly wait. In the meantime, here's some riding footage and chit-chat from Honda about the bike from ADV Pulse.
Honda Africa Twin photos courtesy of Honda Motor Company. Other photos by David Weatherby.
Editors' Recommendations