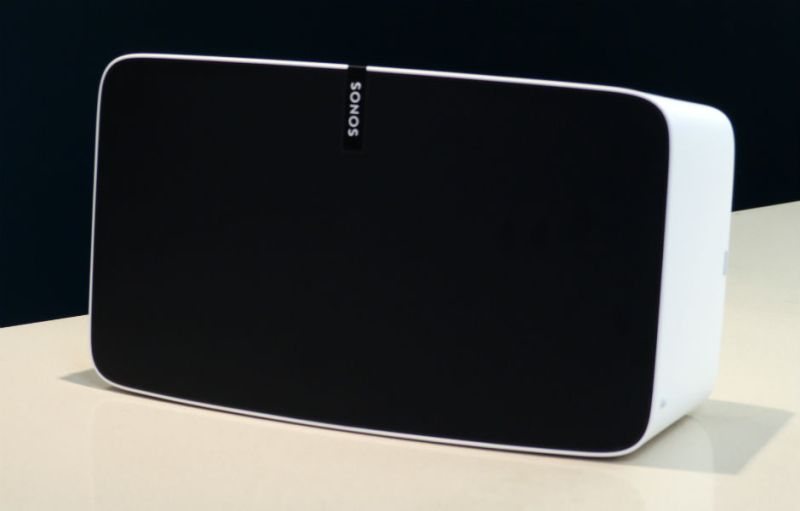 Sonos may have invented wireless multiroom audio, but the past two years have brought it no shortage of competitors. Denon, LG, Samsung, and Bose have all developed their own platforms, while a host of loudspeaker veterans like Polk, Paradigm, and Harman Kardon have hopped on board with the open DTS Play-Fi standard. With all that noise and distraction, it might be easy to forget that Sonos started it all — we almost did. But then Sonos issued a brand-new speaker, the Play:5, which came along just in time to remind us that Sonos not only knows this business better than anyone else, it executes better, too.
In many ways, Sonos is a lot like Apple: Its platform may be a walled garden for wireless music systems, but it is extremely approachable and exceptionally easy to use. The speakers carry the sort of cachet often associated with Apple products thanks to clean designs, simple interfaces, and best-in-class packaging. In short, Sonos stuff "just works," and that's all most people need before they pull out their wallets and start throwing down cash. Except Sonos isn't just another pretty brand with fancy packaging — its speakers deliver outstanding sound quality, and the Play:5 is the company's best example yet.
Related: KEF puts big sound in small packages with the new Egg
The Play:5 is a direct descendant of the speaker that started it all for Sonos, the S5, and a natural evolution of the Play: series line-up, following the the Play:1 (good) and Play:3 (better) as the best — and biggest — stand-alone speaker Sonos offers. Sonos doesn't disclose driver sizes or total wattage, but we can tell you that behind the grill sit three tweeters atop three midbass drivers, each powered with their own, discrete digital amplifier. To enhance stereo effects, Sonos has cleverly flared the baffles around the tweeters on the left and right hand sides in an effort to "throw" the sound beyond the speaker's confines.
This isn't just Sonos' biggest speaker; the Play:5 is also its most versatile. The speaker can be oriented either horizontally for placement on a shelf or desk, or vertically, which would make more sense if two Play:5 speakers were paired for a more conventional stereo or surround sound setup. Of course, it could be argued that the Play:5 is a bit overkill as a surround speaker, but as with the Play:1 and Play:3, the Play:5 can be paired with the Sonos Playbar wireless sound bar for an authentic surround-sound experience. You could also pair two Play:5 speakers with the Sonos Sub subwoofer for a little extra kick.
We've come to expect great sound from Sonos speakers, but we can honestly say the Play:5 exceeded our expectations. Having just evaluated the $700 Bowers & Wilkins Zeppelin Wireless, the bar was already set fairly high, but the Play:5 came right in and dominated the room. Bass is robust and tightly controlled (if not quite as deep as the Zeppelin Wireless), with a punch that you can feel. The midrange is silky smooth, with natural rendering of vocals and string-based instrumentation, while the treble adds texture, grit, and shiny overtones to a generally well-balanced whole. More simply put: The Play:5 is powerful and potent while remaining well-controlled and reserved enough to handle nearly any type of music with respect.
Add superior sound quality to Sonos' best-in-class wireless audio experience, and you get the wireless speaker to beat. The Play:5 will be hanging around our testing room for quite some time, because any other wireless speaker that dares ask $400 or more will have to measure up. Something tells us, though, that Sonos' claim to the throne will hold steady for years to come.
A version of this post first appeared on our "brother site" Digital Trends.