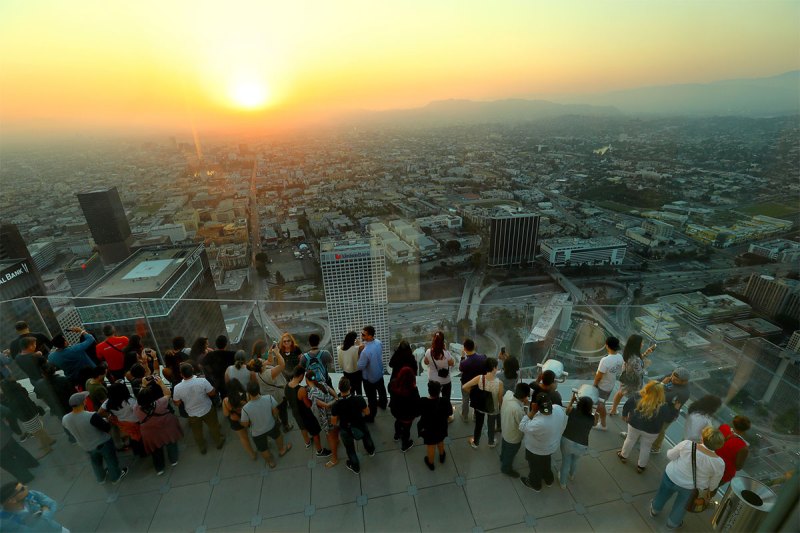 What if you could slide down the side of the tallest skyscraper in California, which is also the second tallest building west of the Mississippi and the 92nd tallest tower in the world? It'd be a damn good day. Well, good news daredevils: you can, thanks to OUE Skyspace LA.
Located at the very top of downtown LA's US Bank Tower, Skyspace LA has to be one of the coolest spots in town. Head up to the observation deck, 1,018 feet in the California sky for uninterrupted views of the city, from mountain to ocean. Telescopes and sofas make it a place you can while away hours picking out landmarks, neighborhoods, and if you're really eagle-eyed, gorgeous celebrities.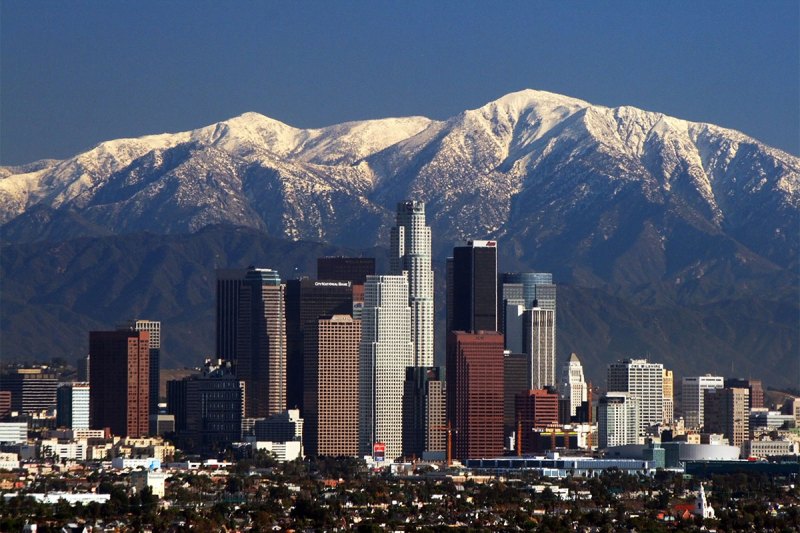 If you're a true thrill seeker, head over to the aptly named Skyslide. It's a genuinely terrifying and incredibly fun 45 foot ride down the side of the building with panes of four-inch glass the only thing separating you from a 1,000 foot drop. It's a descent of about a floor (from 70th to the 69th floor) but it will be feel so much longer as you slide above city streets far below and pop out onto the observation deck. It's probably the biggest, weirdest thrill you can get for $8.
Inside, there's an interesting interactive area where you can watch a time lapse of the LA skyline and stare down an elevator shaft lighted in such a way that it seems like you're staring down through the building. Skyspace LA is available for events, so if you want to have the best view of Los Angeles as the backdrop for your wedding, party, or product launch–look no further.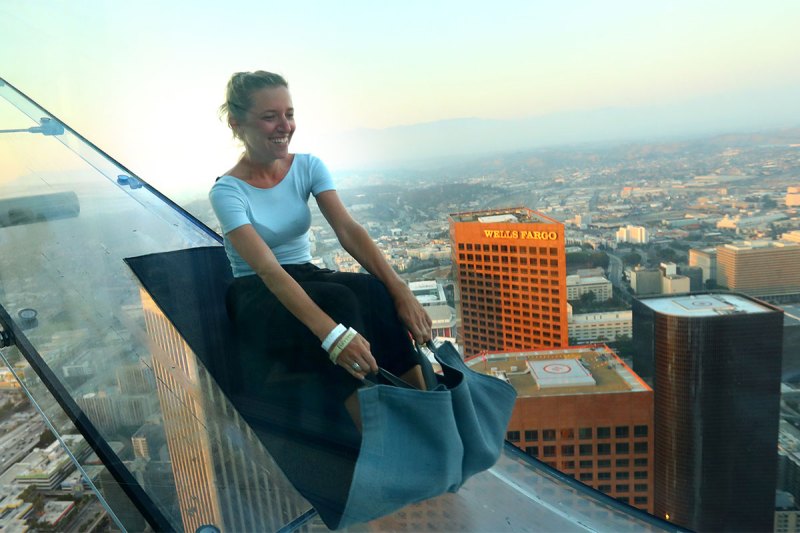 All this skyline revelry requires tickets and there's a variety of options to cover, but the main takeaway is to buy them ahead of time to make sure they don't sell out. There are three ticket options: General Admission, Flex Admission, or the Skyspace Pass–stick with us on this.
General Admission is your baseline choice: it's a timed entry (meaning you have a date and time to show up) and you get to explore the whole thing, but the slide would be additional cost. That's $25 per adult.
Flex Admission is probably the way to go. It's only a bit more ($40) you have priority entry and the convenience of going when you choose as opposed to the time on your ticket. You can also choose the Flex Skyslide Combo, which is just $8 more to include the slide, but again when you want it! Choice, baby!
But if you want all-out, if you simply cannot get enough of Los Angeles' stunning desert views, go for the Flex Skyspace Pass. Yes, it's $89 per person but that's priority entrance and you have six tickets to see LA in all its incarnations: dusk, the "Golden Hour," night when downtown is glittering beneath you– the dates are set, but the time is your choice.