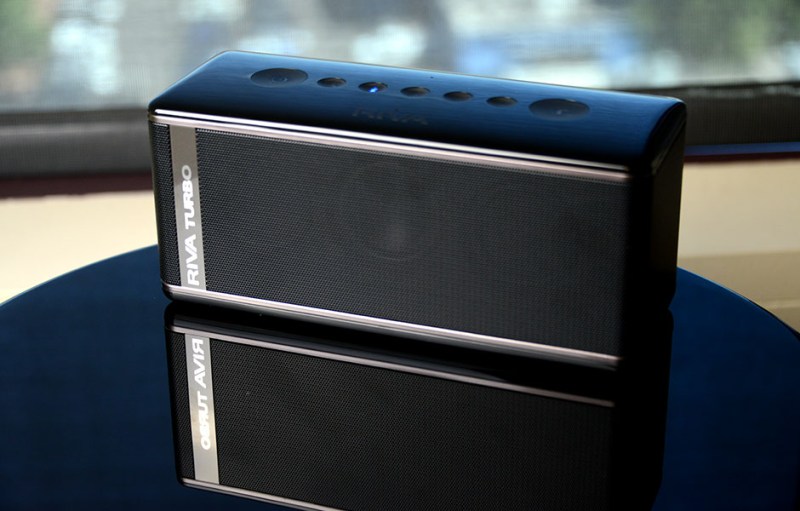 What do Led Zeppelin, Jimi Hendrix, Rod Stewart, Tom Petty, Bob Marley, Miles Davis, The Who, RUSH, and Guns n' Roses all have in common? They've all worked with Rikki Farr, the man behind the Riva Turbo X Bluetooth speaker. And if you're thinking that kind of musical background might result in a portable speaker with a sonic pedigree that stands above the rest, then you'd be right.
Where other portable speakers fail to deliver on their bold claims of superior sound, the Riva Turbo X delivers … and then some. In the same class as Bowers & Wilkins' luscious T7 and Bang & Olufsen's spritely Beoplay A2, the Turbo X delivers rich bass with surprisingly deep extension, a smooth and clear midrange that adds realism to vocals and instrumentation alike, and the kind of treble response that high-end home audio speaker manufacturers chase after for years. It's the sort of speaker a that impresses musicians as well as audiophiles, with all of the modern conveniences we've come to expect from a high-end portable.
Related: Outfit your home in style with the W7 multiroom speaker
Riva says the Turbo X can play at about 75db (which is louder than you think) for up to 26 hours. That's some incredible battery life. It can use that big battery to charge your device, too, but more importantly, it supports a 45-watt amplifier that powers a total of seven drivers.
The Riva Turbo X will power your party, indoor or outdoor, thanks to a Turbo EQ switch which boosts bass and treble just enough to help cut through the din of outdoor noise. Plus, if you want to use it as a mini home theater speaker (there's nothing mini about how it sounds), it packs a virtual surround processor which expands the sound stage without adding a bunch of out-of-phase mess.
We've heard loud speakers before, but rarely with such incredible fidelity. That's really where the Riva Turbo X surpasses its high-end competition. It offers the brute force needed for a big sound, but avoids sacrificing balance and nuance in the process. You can find a speaker that sounds different, but you can't do any better — especially in the bass department. We can't overstate how great the bass is.
Oh, and a high-quality travel bag is available for just $30.00. Not sold yet? Pick one up here at Amazon and give it a shot for yourself. We don't think you'll be returning it.