A tiny cabin on the lake is all most of us need for the ideal weekend retreat. Give us a fireplace, easy access to the water, and a place to lay our head at night and we are happy campers. Recreational Island House is exactly that, but with a twist that makes this lake cabin stand out from all the rest.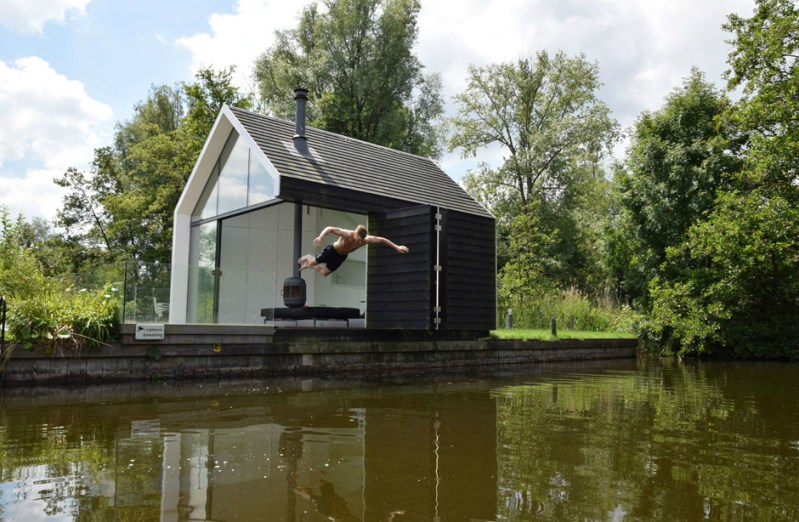 Situated right on the edge of the water on lake Loosdrechtse Plassen in Breukelen, Netherlands, Recreational Island House is as simple as a lakeside cabin can get. At just 226 square feet, the architects had to get clever with how they used the space. Built by 2by4 Architects, the cabin has the bare minimum to make it functional, comfortable, and stylish.
The shape of the cabin is that of a traditional home with a box floor plan and pitched roof. Contemporary, minimalist finishes were added to give the cabin a high-end look. The two ends of the cabin are all glass so as you approach, you can see right through it to the water. This design allows for unobstructed views of the lake from inside and also lets in plenty of natural light to brighten up the space during the day.
Outside, the long sides of the cabin are clad in dark stained wood to help blend in with the surrounding trees. Inside, the walls and open ceiling are all white keeping with the clean, minimalist look. While 226 square feet sounds impossibly small, 2by4 Architects was able to squeeze in all the comforts of home including a bathroom, kitchenette, dining area, and combination living room and bedroom.
A partition wall on the left side of the cabin hides the bathroom and provides space for the built-in kitchenette. A raised platform off of the kitchenette is the location for the picnic table style dining set. In the combination living room and bedroom, there is a simple futon which sits facing the water and the fireplace. With minimal furnishings, the cabin can easily be closed up for winter and reopened in the summer.
Recreational Island House sits on a parcel of land that juts out into the lake, providing the perfect spot for diving right into the water, fishing, or docking a boat. But the best part about the cabin? The wall of the living room can be folded in half, turning the space into an open-air cabin. What's better than diving into the water straight from your living room?
If you're not one to put down roots, skip the tiny lake house and get a tiny houseboat instead.
Editors' Recommendations