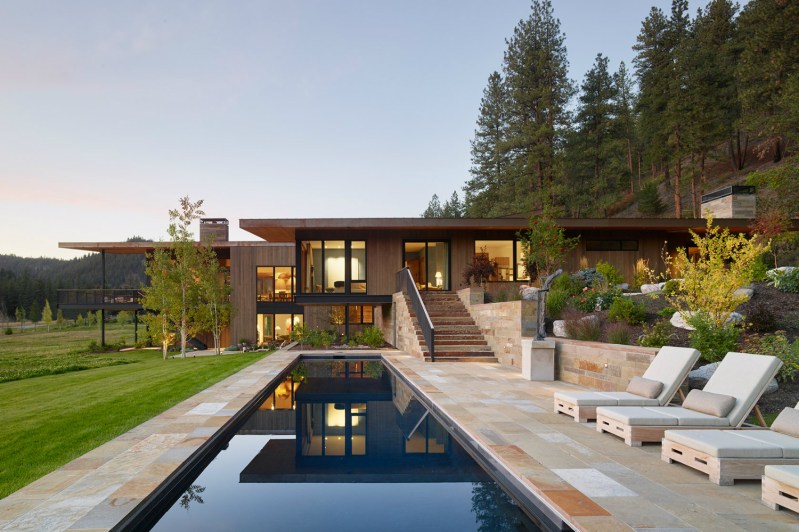 There's a challenge with building your dream home in Montana. How do you compete with the jaw-dropping beauty of the natural landscape? Add to that the need to display a museum-quality art collection inside, and it seems the architecture of the home would have to play third wheel to the perfect marriage of art and nature. That was the challenge for architectural firm Carney Logan Burke: creating a home that can hold its own, yet is subdued enough to not overshadow the impressive vistas outside and the art collection within.
Built on the edge of a meadow and backed by a hilly, old-growth pine forest, RCR Compound uses Mid-Century Modern influences, multiple interconnected buildings, and a careful selection of materials to build a bridge between the landscape and the art. Located in a valley on 80-acres, the home is situated on the land so as to take advantage of the views of the grassy meadow and the mountain peaks that flank the property. The buildings that make up the compound surround an elevated terrace which offers unobstructed views of the valley as well as one of the owner's outdoor sculptures.
Outside, RCR Compound is a thoughtful blending of natural and manmade materials. Stacked sandstone, vertical grain cedar, aluminum, and Corten steel-clad the exterior, creating an understated Earth-tone color palette that blends with the forest at the back of the home. The roofline tilts and cantilevers over terraces to reflect the topography of the site. The most impressive section is the central terrace where the roof juts out into an extended overhang, providing shade but also becoming an art piece in its own right.
Inside, RCR Compound sprawls out over 9,000-square-feet of light-filled spaces that display the owner's extensive art collection. Built to showcase the art, the home is decked out in wood and plaster finishes creating a warm, blank canvas for displaying paintings. Dark walnut flooring unifies the spaces throughout the home, while light hemlock on the ceilings helps to keep rooms feeling bright and open.
Divided into public and private sections connected by a glass bridge, RCR Compound creates a balance between social areas and quiet spaces. The living spaces all flow out to a covered porch that cantilevers over the meadow. The library features its own private terrace with an angled roof that allows light to filter into the space. In the private section, the master suite and meditation room look onto an aspen grove thanks to floor-to-ceiling windows.
Everywhere you turn, RCR Compound is a lesson in balance. Balance between that natural and the manmade and balance between public and private spaces. Despite the beauty flooding the home inside and out, RCR Compound holds its own through a careful selection of materials and a splash of mid-century modern style.
For a look at another Mid-Century Modern residence built in the 21st century, check out Riviera Residence.
Editors' Recommendations