Gone are the days of dark underground hideaways. Today's modern villain has sophistication and style. These ne'er-do-wells now have options like Razor Bluff – a 10,000 square foot maze of concrete and glass that is the perfect spot for plotting world domination … or just taking in the stunning California sunsets.
Razor Bluff, located in the hills of La Jolla, is the creation of famed American architect Wallace E. Cunningham. Known for designing opulent homes with unique forms, Cunningham is a master of turning concrete into fluid, bright, and airy structures. His homes open up to the outside to create a strong connection to nature and often the home's building site dictates the design. Such is the case with Razor Bluff.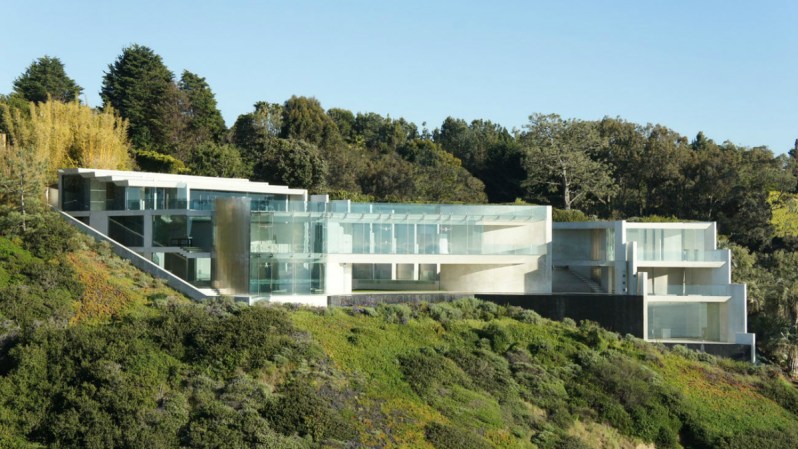 The most important element in the creation of Razor Bluff was capturing the sweeping views of the Pacific Ocean. The sloping site presented a unique challenge as well. In order to build Razor Bluff, Cunningham had to listen to the land. He created a home that rose up from the land, while also flowing along the hillside.
Razor Bluff is a stunning example of the beauty of concrete and glass. The white polished finish of the concrete adds a feeling of luxury, while the walls of glass keep the home bright and open. All of the rooms overlook the water, allowing for stunning sunset views from anywhere inside the property. Unique forms were used throughout, from a circular, glass-enclosed sitting room, to an oval bedroom anchored by a massive fireplace, to the angular infinity pool that appears to pour into the Pacific. The layout of Razor Bluff flows like water, leading visitors around corners and into increasingly stunning spaces.
With so much space, Razor Bluff has all of the luxury amenities we could ever want in our evil villain lair, and some we never even thought of. Along with the 5,100 cubic feet infinity pool, the mansion also includes an underground four-car garage, a glass elevator, movie theater, gym with steam room, rooftop spa, and a library that features a custom Ralph Lauren glass and stainless steel pool table. The home is fully automated and controlled via iPad, allowing you to adjust everything from window shades to music.
Razor Bluff also includes the standard rooms you find in any home, but they are all over-the-top luxurious befitting a hillside abode in La Jolla. There are two separate master suites, each with spa-like bathrooms, two guest bedrooms, four full bathrooms, and two half baths. The kitchen is a gourmet chef's dream, complete with top-of-the-line appliances including four ovens, because why not?
At $30 million dollars, Razor Bluff is unobtainable for the average buyer, but it's still fun to imagine what life as a wealthy supervillain could be like.
Want to get a glimpse of more homes perfect for the dastardly villain in all of us? Check out the home of Oakley founder James Jannard.
Editors' Recommendations