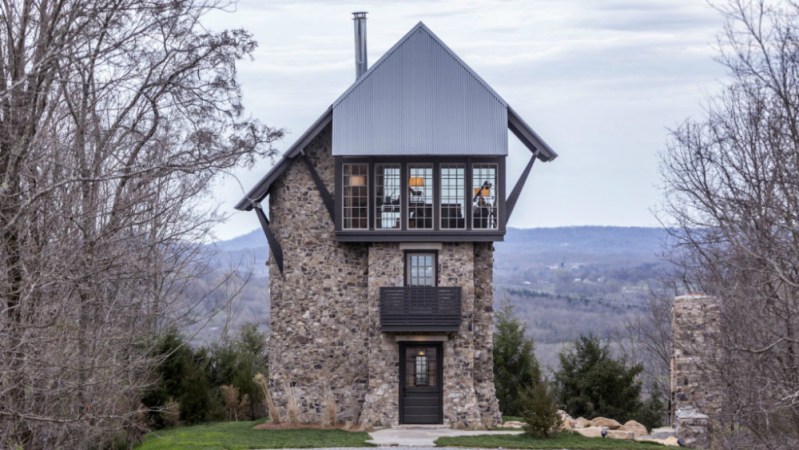 There's just something about a spiral staircase that piques the imagination. It's a bit whimsical, a bit intriguing, drawing you in to explore where it leads. And that was the intention when the folks over at Pfeffer Torode Architecture created the winding staircase the leads up to this stunning guest retreat.
Sitting atop a hill in the Tennessee countryside, this unique structure was built as a place for guests to unwind and for the homeowners to take in the stunning views of their property. Built in reverse, with the main entertaining space on the top floor, this tiny tower is big on style.
It was important to the owners that the observation tower reflect the area they live in. Everything from the materials to the color palette to the design style speaks to what Tennessee has to offer. The exterior is beautifully decked out in rugged natural stone, while the third-floor observation room is a study in glass and steel. Tennessee has a culture of enjoying the outdoors, so a large stone patio was created to compliment the tower. The showpiece is a massive stone fireplace perfect for gathering with friends in the evening to watch the sunset and roast some s'mores.
When guests enter the tower, they are greeted with a room that is all about practicality. The Thunder Room, as it was dubbed, is part mudroom, part thunderstorm shelter, and part entryway. This space leads to the impressive winding staircase.
Covered in bright white stucco with dark wooden treads, the custom stairs lead up to the next floor where there are a powder room and a kitchenette with balconies on either side. From there, the stairs take visitors up one more flight to a jaw-dropping space: the Observation Room.
From the exterior finishes to the interior design, the Observation Room was created in sharp contrast to the rest of the tower. While the majority of the tower is covered in natural stone, the observation tower is a glass and steel box that juts out beyond the walls of the tower below. This allows for unobstructed, 360-degree views of the surrounding landscape.
While the rooms below are small and practical, the Observation Room feels open, spacious, and inviting with its glass walls, warm color palette, and comfy leather seating. The design is part rustic hunting lodge, part urban industrial and includes several of the family's antiques to add a personal touch. The result is a masculine space that is perfect for unwinding after a day of enjoying the Tennessee countryside.
Looking for an observation tower you actually stay in? Check out the best fire lookout rentals in the U.S.
Editors' Recommendations