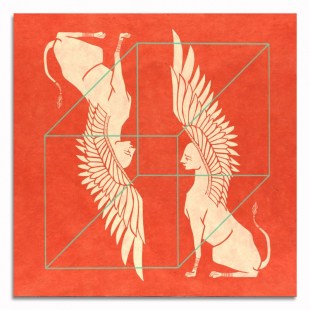 Saintseneca, who released their sophomore full-length a little over a year ago, return this Friday (October 9th) with a new album, Such Things, on Anti-. Songwriter and frontman Zac Little spreads his wings on the record, launching from where he left off on that sophomore record. Dark Arc followed a straight if brooding path, but Such Things is both lighter and more inclined to follow new paths on its tracks.
That lightness comes from Little's willingness to explore pop melodies and occasionally kick the tempo of a song into overdrive. He notes, "I was pushing myself with Such Things to try to explore the pop motif further, to try to use and bend that formula of having a groove, a beat, locking in and using that as scaffolding to build a song." His exploration of the "pop motif" comes to fruition throughout the album, but never more successfully than on single "Sleeper Hold." Bandmate Maryn Jones takes the lead on vocals as the rest of the band rocks out on their various instruments until the chorus comes along with a veritable eruption of noise.
Thanks to the addition of drummer Matt O'Conke as a full-time member of Saintseneca, many of the songs on Such Things, like "Sleeper Hold" and the ebullient "River," burst out from the band's quiet, folkier side. In discussing the collaborative nature of the band on Stereogum, Little described how after he wrote the songs, his next step was to work with O'Conke to set up the drum parts.
Little may be the only permanent member of Saintseneca over its 8 year lifespan, but he understands the project as fundamentally collaborative in nature, noting "even though it oftentimes might seem like this singular vision, at the core my creative strategy for the band is one that inherently involves other people." The songwriter recorded highly detailed demos, which he shared with the rest of the band not as the final word on what Such Things' music would sound like, but rather as a jumping off point for further evolution of the tracks.
Saintseneca may not have taken much of a breather between records, but Such Things is proof that the lack of rest did not lead to a dip in quality. The band have taken their darkly catchy sound and expanded on the pop elements to create a record that is instantly catchy and unafraid of rocking out.
Such Things comes out via Anti- on October, 9th and is available for preorder through Amazon, iTunes, and the Anti- store.
Editors' Recommendations