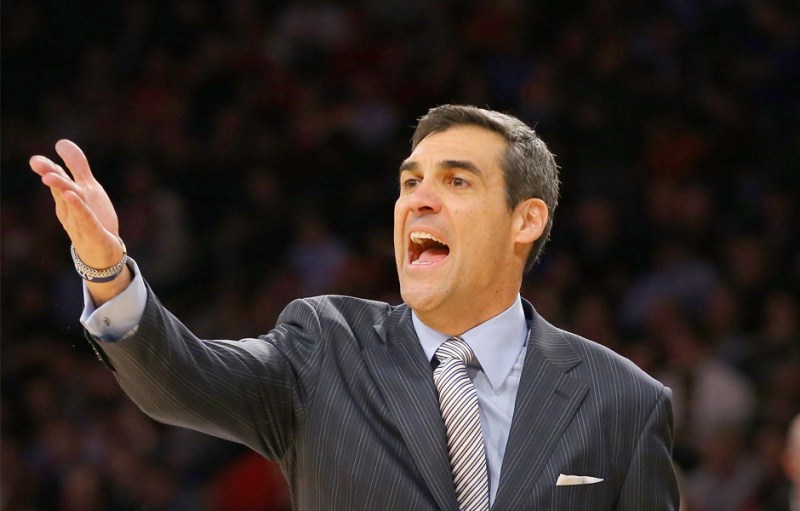 March Madness is already underway all over the country, so we at The Manual figured we had to get involved somehow. Luckily, we were able to grab some time with the long-time head coach of the Villanova Wildcats, Jay Wright, who was in New York as part of the Dove Men + Care "Easy Decisions" campaign.
Villanova heads into the NCAA Tournament as the #2 Seed in the East Region. (If you're not familiar with this year's tournament field, feel free to brush up in your spare time.) The Wildcats have had a largely successful season, but are coming off a tough loss to Seton Hall in the Big East conference tournament. We talked to Coach Wright about this year's team, handling March Madness, his Philly food choices and his personal style.
First of all, how did your partnership with Dove come about?
Well, Dove was starting their yearly campaign as part of the Final Four and the NCAA Tournament where they focus on some of the biggest decision makers in the game of basketball and I was lucky enough to be chosen as one of those decision makers. And to be a part of a great partnership like that was certainly an easy decision to make.
How do you get your players to make smart decisions in some hard, stressful situations during the NCAA Tournament?
They're all big games, so we just try to get players to focus on what is on the court. We want to keep them away from what's being said on TV and in the news—all that madness that surrounds the tournament and comes with March Madness. We just stress the next game, the next possession.
I read a comment you made where you said that you feel very good about this year's team. Not just about the excellent record but about the way the guys play together and respect the game. Can you explain that a little bit?
We have a really unique group of guys. We have one senior, James Bell, in particular who is an impactful leader because he's a senior and he was willing to start the year coming off the bench—not a lot of guys would want to do that. Everyone on the team respects each other and they all play unselfishly. Most of the team is young so they want to learn and they want to get better, which we have, as the season has gone on.
How is that different from years past?
It's just a different blend. In 2009, when we went to the Final Four we had four seniors, five juniors and three sophomores and no freshman. In 2005 we had a group of juniors (Allen Ray, Randy Foye, Curtis Sumpter) as our leaders and Kyle Lowry contributing as a freshman. This year it's just a mix of guys with different levels of experience coming together.
Do you still keep up with past players that are in the NBA? Do you talk to a guy like Kyle Lowry who is having an All-Star caliber year but often gets overlooked due to his "attitude" issues?
I have a good story about Kyle. The driver I had today picked me up and said that he drives all the visiting players when they are playing in New York against the Knicks. He told me that Kyle Lowry was a very polite young man and he had the pleasure of driving him, his wife and his kids. And that's really who Kyle is. People always talk about his attitude, but he's a great teammate and a truly good person. He's ultra competitive so that can cause people to think differently, but when it all comes down to it, he's just a good person.
Growing up on Long Island, I first really noticed you as coach when Amityville High School star Jason Fraser started playing on the team. Do you still keep up with Jason?
Sure, I do! He's one of our assistant coaches now! You know, in high school, Jason went head to head against LeBron James and his team came out on top. He was a talented kid. There was no one more highly touted than Jason when he was coming out of high school, but he always had the knee issues. Jason wanted to go to college and play so he had seven surgeries. He was never the same player, but he found a way to be a leader for us and to contribute on some really good teams.
We like to ask the athletes we interview about the places they love to eat in their team's city. I figure we can do the same thing for you and Philadelphia. Where are some of your go-to spots?
Man, that's tough. In Philly, I like to move around and keep things kind of fresh. Off the top of my head, there was Georges in Wayne that was a great restaurant and had great steaks, but that just recently closed. In South Philly, there's a place called the Saloon and that's a spot I love. It's a real old school Philly seafood and Italian restaurant.
You're known as a very stylish coach. There's even a weekly column devoted to what you're wearing during each game. When did your interest in style begin? How did it develop?
You know, I guess it started in high school when you have to dress up for game days. I figured, if I've gotta do this, let's do something really good. Other guys didn't really care, but I always just liked clothes. I've always wanted to have nice suits. My tailor in Philadelphia is Gabriele D'Annunzio. He's an Italian guy and he'll tell me what suits, styles and colors may seem too young or too old for me. He's a great advisor to have when it comes to my fashion.
Editors' Recommendations