It seems like just about everyone is looking for a smarter way to control their growing collection of devices these days, spurring a host of ingenious new methods to help you take the reigns of your electronic empire. Most of these new creations utilize the smartphone or tablet you already own. But if you're looking for an even more comprehensive smart universal remote system, you may want get down with a new device currently making a Kickstarter push called NEEO.
Related: Hi-Fi Corner: Hands-on with Samsung's new multi-room speaker pods
NEEO adopts a dual-front attack to give you ultimate control of everything from your stockpile of home theater gear, to smart light bulbs, thermostats, and window shades. At the heart of the system is (of course) an app for iOS or Android devices, which allows easy setup for control of more than 30,000 home theater and smart home devices. The company says the database is comprehensive enough to include "all major AV products produced in the last 10 years."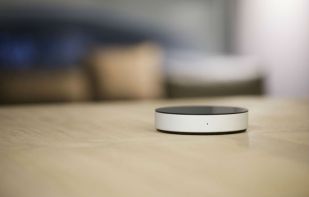 But the real bones of the system comes from the aluminum-clad NEEO hardware, which begins with a sleek disc that fires Infrared signals in 360 degrees called The Brain. The Brain is partnered with our personal favorite component of the system, a real-life control wand featuring a simplified selection of tactile buttons, and a touch screen with a resolution claimed to be higher than that of Apple's iPad retina screens. But that's just the start of the features on board this "thinking remote."
The wand is embedded with patent-pending "hand detection technology" that is able to recognize who you are when you pick it up to call up your favorite content and devices, and also allow for locked-down parental controls. The unit also includes a stand and a rechargeable battery that NEEO says can go months without charging, four antennas featuring dual Bluetooth protocols (including low-energy BLE) and Wi-Fi connection, and an SOS feature that allows you to summon a chirp from the wand via your smartphone when it inevitably gets lost in the couch cushions.
Still not convinced? NEEO also repeatedly calls attention to the remote's "insanely easy" setup, claiming the system will work right out of the box with Google's Nest devices, set top boxes like Roku and Apple TV, Philips Hue lights, DVR boxes from Cablevision, Verizon, Time Warner, and Comcast, and just about every other remotely controlled device you likely have rambling around your home.
As of publication time, NEEO has raised over $640,000 of the company's initial $50,000 goal, so no worries about this thing vaporizing into the ether due to lack of funding. If you're interested in grabbing a NEEO to help simplify your setup, you've got a shade over two more weeks to jump onto the NEEO Kickstarter page and put yours on order. It'll cost you around $220 for the whole system at this stage in the game, but what's a little money in comparison to smart home omnipotence?
Editors' Recommendations