Let's shine a light for a moment on the type of person who likes a little extra detail in his or her life. Everyday items can become mundane – but by rethinking the essentials, we can add some excitement into the mix.
These light bulbs by FerroWatt are a great example of this. Each light bulb is authentically detailed to replicate the original styles invented by a man known as Thomas Alva Edison. From their looped filaments to their hand-exhausted tips, these FerroWatt light bulbs aren't just an essential; they're a conversation starter. And if you haven't noticed – they seem to be everywhere these days – from hip speakeasies to your local Pottery Barn.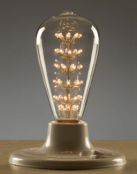 FerroWatt was founded in the late 1800's in Vienna, Austria under the name "Watt AG" and was one of the first manufacturers of indoor 'light' – rivaling companies such as OSRAM and Phillips in 1930's – and with over a century of experience, we think they have the whole quality thing down.
At the very least, this is a great gift for any history buff.
Check out their website to peruse some of their interesting styles – or to place an order.
Editors' Recommendations