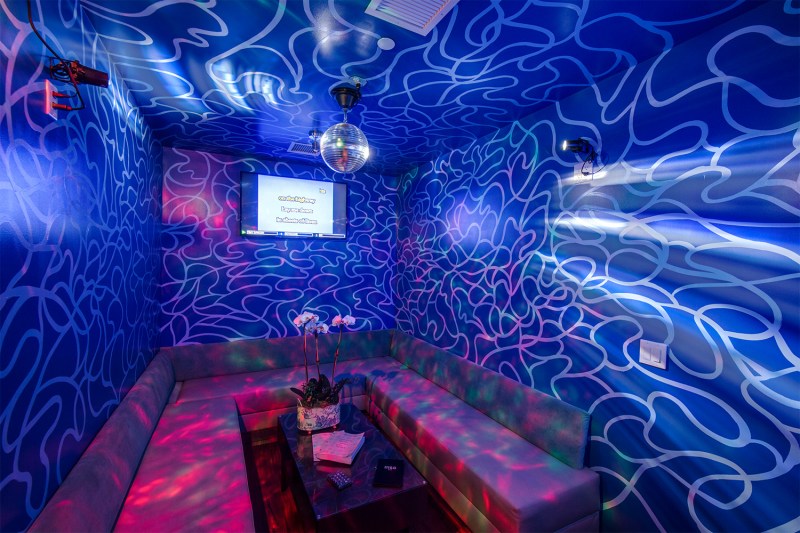 If you think that karaoke looks like fun but have never had the courage to get up there and sing a song, you're not alone. When you're on the outside looking in, karaoke is daunting. But once you get over your stage fright and take the mic, karaoke will become a hobby that's nearly impossible to give up.
"Having seen how our own employees have made karaoke a part of their lives, I've seen people develop their own confidence and transform into beautiful karaoke butterflies — their self-esteem rising in ways I could never have imagined," says Yong Shin, sous chef and partner at Insa, a Brooklyn Korean barbecue restaurant that houses multiple private karaoke rooms on-site. "Karaoke is such a natural and cathartic activity: it clears your chakras, makes your skin glow, and balances your hormones." (Not medically proven.)
Shin's overall point is true. Karaoke can make you feel like a million bucks if you let down your guard and simply enjoy the moment. Because we're big karaoke enthusiasts ourselves, we chatted with Shin and came up with some helpful karaoke tips to get you ready for the big show. Whether you've sung a few times or are completely new to the game, heed this advice to become a karaoke pro in no time.
Private Rooms are Less Daunting
When you think of karaoke, a big room with a single lonely stage might come to mind. But private karaoke rooms, which are big in places like South Korea and Japan, are becoming more popular in the United States. They can typically accommodate anywhere from six to 20 people depending on the room size, so you can go with a few friends to get the hang of it or roll in with a big group so you won't feel pressured to sing as many songs. We guarantee that once you have a few private room experiences under your belt, you'll be singing on stage in front of an audience of strangers in no time.
A Little Liquid Courage Goes a Long Way
Don't underestimate the power of drinking a stiff cocktail before taking the mic. It will make you feel less tense and get you excited to belt out your favorite song. So order a round of shots for the room or a boilermaker to help loosen you up a bit. And if you're at Insa, one of their signature Scorpion Bowls is sure to do the trick.
It's Easier to Sing a Song When You Know the Words
Even though karaoke screens display the words, a song will still be difficult to sing if you're not familiar with the lyrics, dictation, and tempo. If you're new to karaoke, choose a song that you know by heart — something you belt out in the car without a second thought when it comes through on the speakers. Not only will knowing the song boost your confidence, but the crowd will go wild when they hear how well you sing it.
Choose a Song That Works With Your Vocal Range
As much as you might want to belt out Whitney Houston's "I Wanna Dance With Somebody," if your vocal range can't hit the high notes, save it for that car ride. We can tell you from experience (take it from this female journalist who has a range in freakish proximity to Scott Stapp's from Creed) that choosing a song well within your range will make you and the entire room more comfortable. Start with songs on the lower end of the vocal spectrum before working your way up and discovering where your limit lies. If you've played music before or know it well, you can probably alter a song to match your range. If so, go for it!
Practice Makes Perfect
If you're new to karaoke, there's no harm in rehearsing the songs you want to sing a few times before the main event. "The most natural way to boost confidence is to practice on your own and have fun!" Shin says. "Luckily at Insa, we provide private rooms. I've seen a lot of solo guests come to belt it out on their own. But of course, you can do this in the comfort of your own bedroom or bathroom."
Know Your Audience and Choose a Mood Accordingly
"Generally, you want to ensure each song contrasts with the next with respect to different genres and vibes," Shin says. For example, if you sing too many pop songs or rock anthems in a row, you can feel the room getting bored. So when it comes time to choose your song, think about where you want to take the room to give it some fresh energy. This is sure to catch people's attention and get them singing along with you. If you're at a loss about how to switch up the mood, Shin has some solid song suggestions to guide you:
Start off with something upbeat, sexy, and fun, like Beyoncé's "Hold Up."
Keep the mood light and cheerful with classic '90s and early aughts pop like the Cardigans' "Love Fool."
Slow the mood down with an old classic like Harry Nilsson's "Everybody's Talkin'" or Chris Isaak's "Wicked Game."
Bring the mood back up with a singalong type. Think David Bowie's "Starman" or Cardi B's "Bodak Yellow."
Blow 'em out the water with something sexy and challenging like Rihanna's "Love on the Brain."
When in Doubt, Choose a Classic That Everyone Knows
Even though Shin steers clear of super popular songs ("I literally hear our guests sing them every day in the karaoke rooms at Insa"), choosing a crowd-pleaser like "Bohemian Rhapsody" or "Living on a Prayer" is sure to get a majority of the room singing along. If you're new to karaoke, having this energy and enthusiasm from the crowd is a total confidence booster. Plus, everyone sounds better with backup singers.
Editors' Recommendations