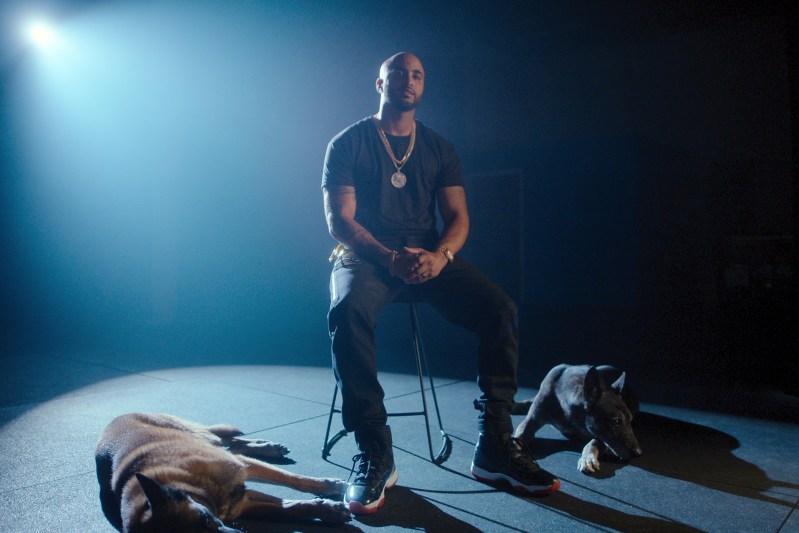 Jas Leverette, owner of Cali K9 and star of the Netflix show Canine Intervention, is framed in a tight mid-shot, addressing the camera with his forearm parallel to the ground. In his Bay Area lilt, he emphasizes the need to work with one's dog every day. "Pop!" he says midsentence, seemingly unprompted, before resuming his talk. And then, from camera left, an airborne dog latches onto the forearm — a fake forearm, it turns out — in a classic Hollywood jump scare. "It's like catching a football — a big football," he tells The Manual. "Some people like to jump out of airplanes? That dog coming at you 35 miles per hour, and you have to catch him safe and fluid, it's the fun part of everything we're doing, the adrenaline rush of the work."
Leverette, 37, was born in New York, but from the age of 2 he grew up in Oakland, California, where he still lives. The son of a single mother, he took time to find his footing, first with avionics after high school and then in car customization before landing in the medical cannabis industry in the early 2000s. While he'd grown up with dogs, including his mother's penchant for cocker spaniels, it was in his cannabis career where he found a new passion for animals. German shepherds, brought in as a means of security for grow sites, were smart and efficient, but they had to be worked as hard as the crop to maintain their efficacy. "As I was incorporating them, I was learning how to train them," he says. "I fell in love with the process of that."
Related Guides
He was a natural, but not in the way we think of a horse whisperer, nuzzling up on dogs. "We have to understand it is a predatory animal," he says. Pack dominance, boundaries, discipline, consistency. All of these, evenly applied, create the separation necessary for a well-behaved canine and, paradoxically, strengthen the bond between alpha and beta. He learned these lessons through individual research and several well-timed mentors, the latter of whom he credits for his development. "They're just like me," he says. "They start with a passion for dogs and then it turns into more. That's the common denominator dog people have."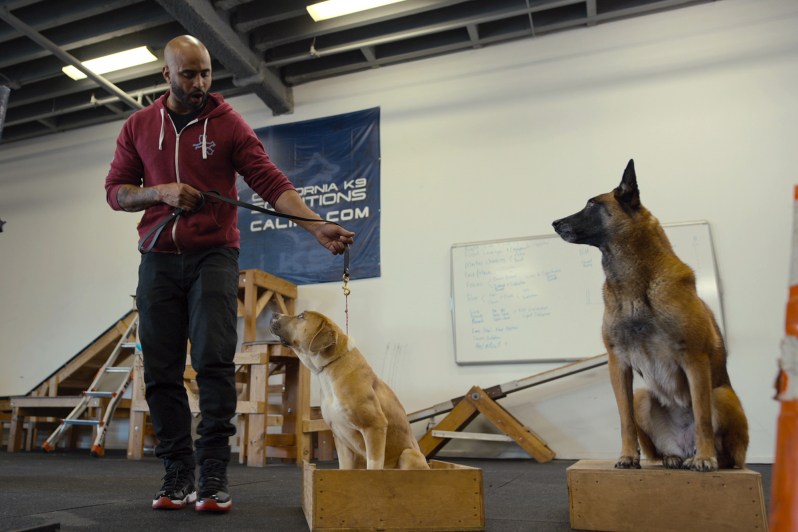 But the biggest lessons came from the animals themselves. In the same way athletic performance trickles down from the elite to the everyman, so too did Leverette see long-term results on friends' rescue mutts after honing them on some of the smartest dogs in the world. "A lot of this is what I learned through the high levels of protection training and those high-caliber dogs," he says.
Since 2010, Leverette has been training his and others' dogs full time, and over that decade he's seen a wide range of behavioral issues. Some dogs, admittedly, have problems that even the best trainer cannot fix, and his voice grows sad remembering his pit bull Sinbad, which had to be put down with terminal aggression issues. However, for the lion's share of animals, "It can be fixed," he says, "but it takes the person to adjust to that situation — the dog's not going to do it on its own."
Helping others with their dogs was always a part of the plan, even before his Netflix show. He launched a YouTube channel almost immediately with a videographer friend with whom he still works, and even today, at the helm of a runaway smash and a burgeoning business, he still offers free lessons to followers twice a week via his Instagram. "There's this block of information, and I'm just trying to get the secret out," he says.
While IG "dog parents" may induce eye rolls, Leverette, father to a 13-month-old and expecting his second child, a daughter, in July, says that there are surprising parallels between dog ownership and parenting. "The discipline and consistency you have to have is similar. Everything is always shaping, so it's a process of what's being reinforced and what's being blocked and what's being encouraged and what's being discouraged," he says. "All these things are similar: You leverage motivation.
"But fatherhood is a different level. It's a piece of you."
With fatherhood has come introspection and a long view of where all his work, granular in execution, is leading in the bigger picture. It's motivated him to consider adult words like "legacy" and "retirement," and it's also spurred him to dream more broadly. Over this year and the next, he'll be launching a national and then an international tour, taking his methodology and personality off the web and into the world. While dates and locations are still being finalized, he's confident there's an in-person audience out there for his work. "We're ready to take Cali K9 to the streets," he says.
With widespread coronavirus quarantines around the country, 2020 saw a run on everything from toilet paper to bicycles, and animal shelters witnessed adoptions rise so rapidly that in some months, you couldn't buy a shelter dog even if you wanted to. Those same people, overwhelmed and doing their best, are now in desperate need of expert advice on how to train their new dogs, and Leverette, whose show debuted on January 27 of this year, is perfectly positioned to be this next generation's Cesar Millan.
Sure, as vaccinations roll out and local economies open up, he admits some concern for animals that might be neglected when there are more entertainment options available. Still, it's a great thing that more people than ever have dogs. "Dogs need homes, people need dogs," he says. "Yeah, once the bars open up, some people are going to prioritize things over their animals," he laughs.
"But some people will learn that they can train their dog to go to the bar with them."