Last month, 24-year-old James Leitner embarked on a 3,215 walk across the country. This trek is unique in that Leitner is hauling ten gallons of water across the country to raise awareness (and funds) around a basic necessity that many of us take for granted daily.
We caught up with Leitner in Kalamazoo, Michigan on Day 29 of his journey to find out what drives him to undertake this almost six-month endeavor for global water awareness.
What was the catalyst for this quest?
While working on a school project during my junior year, I learned that over one billion people around the world do not have access to clean drinking water. My plan for my life changed at that moment.
Is this your first major undertaking to raise awareness and funds for clean water?
No. In May of last year, I set out to finish a marathon a month for twelve months while carrying 45 pounds of water. I finished the last one in April 2017 less than a month before I set off on my cross-country journey.
That first marathon was my first long distance event and it rained the entire day. I completed the last one a few months ago and I carried the blue container filled with water throughout each one to symbolize the long walk that women and children take each day just to find drinking water.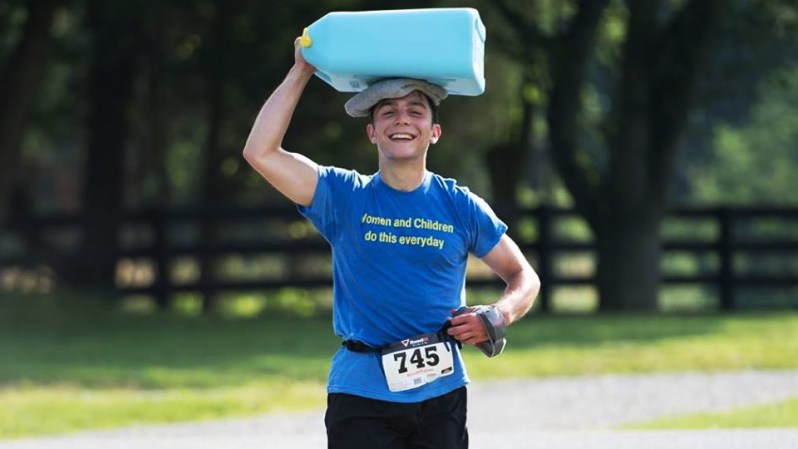 Why did you choose to walk across the United States?
The route I am taking from Scotch Plains, New Jersey to San Francisco, California is approximately 3,215 miles. Many women and children in parts of the world spend roughly four months (and walking this distance) of every year just walking round trip to provide the water they need daily.
My goal is help raise money for the Philadelphia Serengeti Alliance. There are approximately 307 broken wells in the Mara Region of Tanzania that all have good water quality. This organization is working to repair these broken wells and training communities how to maintain them.
What does the journey involve?
I will be pulling a cart with ten gallons of water (90 pounds) the entire distance and will cover approximately 25 miles daily during the trip. I will also be volunteering along the way with non-profits in areas like Flint, Michigan that have dealt with water issues.
How can readers get involved?
If you are interested in joining me for part of the hike or might know somewhere I can stay the night, feel free to email me at, missioncleanwater@gmail.com.
You can find out more on my website at Mission Clean Water and can donate at our Go Fund Me page.