House of Marley's goal of bringing to life Bob Marley's vision of universal love, music, and respect for nature has been accomplished through House of Marley's devotion to employing sustainable business practices in the creation of its line of great-looking and great-sounding audio equipment.
And it all starts with the materials. Speakers of every size are usually made of some kind of cocktail of aluminum, ceramics, and other substances that are typically non-biodegradable and which carry high environmental impacts, or are unsustainable in regards to lasting durability.
Given its mantra, House of Marley has taken a different route. All of its devices are formed from eco-friendly materials such as organic cotton, organic cork, and canvas textiles; recycled metals and plastics; bamboo, wood composites, and Forest Stewardship Council (FSC)-certified woods; and other goods that promote longevity instead of brevity.
Furthermore, each speaker, turntable, and headphone sold by House of Marley benefits the Marley Family Organization Charity while also enabling House of Marley to pledge money and help support global reforestation efforts by planting trees all of the world.
So, whether you're an avid appreciator of sustainable products, have a guilty pleasure for minimalistic, luxe designs, seek out high-quality craftsmanship and quality, or you simply just love Bob Marley as much as we do – House of Marley's repertoire of portable and home audio systems should tickle your fancy in one way or more. Here are a few of our favorite products from the brand's line-up of awesome audio equipment.
House of Marley No Bounds Portable Bluetooth Speaker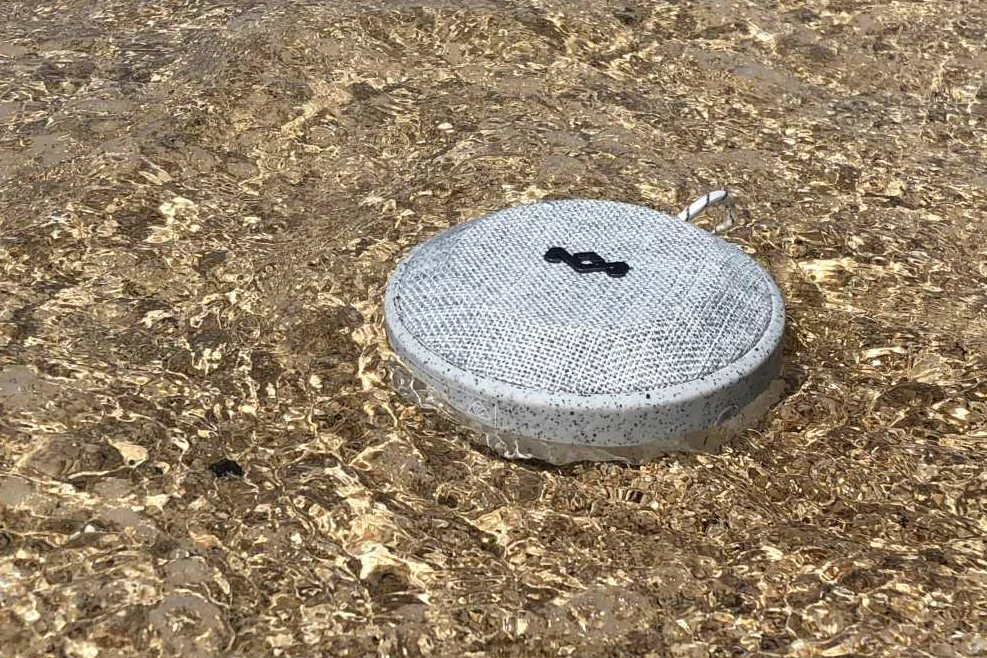 The No Bounds bluetooth speaker is one of House of Marley's most durable, outdoor portable speakers. Constructed out of sustainable, organic cork for a natural appearance, the No Bounds speakers is designed to thrive in the natural environment around you. The speakers are offered in four colors – blue, red, grey, and black – and are built with waterproof and dust-proof materials to ensure you reap the benefits from its 10-hours of battery life, wireless dual-speaker pairing capability, and speakerphone functionality, without any hiccups. It also comes with an AUX-in slot and House of Marley's coveted quick charge system for added performance. We tested this pintsize powerhouse on the beaches of Hawaii and found it to work without an issue, even when floating in salt water (though we wouldn't recommend doing that yourself).
House of Marley Bag of Riddim Portable Bluetooth Speaker
Bag of Riddim is one of House of Marley's best sounding speakers, offering superb sound with ample bass through two 3.5 inch woofers and a transport-friendly design that boasts a shoulder strap and carry handle that can make the trek up a mountain, through the woods to a campsite, or even looks great sitting outside in the backyard by the pool. No matter your intentions, the Bag of Riddim portable audio speaker comes dressed in a beautiful organic bamboo face plate, an auxiliary input, a USB for charging devices, an AC adapter, and up to 10 hours of playtime.
House of Marley Stir It Up Turntable
The Stir It Up turntable might be the most handsome-looking grab from House of Marley. Not only is this a great addition to an empty shelf in the house, this rustic turntable-style speaker offers features such as a built-in switch pre-amp that is compatible with other House of Marley products, a bamboo plinth for a natural warmth, and a base wrapped in a functional, eco-friendly REWIND fabric dust cover.
House of Marley Exodus Over-Ear Headphones
As audiophiles, we believe everyone needs a pair of over-the-ear headphones that block out the noise around you so you can focus on the tunes at hand. House of Marley's flagship headphones are crafted from sustainable FSC certified wood, stainless steel, recyclable aluminum, and premium natural leather. As for functionality, the Exodus design boasts 50-mm hi-def drivers for high-quality sound, extremely comfortable memory foam ear cushions, and a built-in mic with remote technology. This puppy also hosts 30 hours of battery life so you can listen to 'Redemption Song' all day, and then some. A braided AUX cable, USB-C charging cord, and a stash bag are included, too.
Now that you've snagged the perfect turntable, why not check out the best vinyl albums to play on that bad boy?