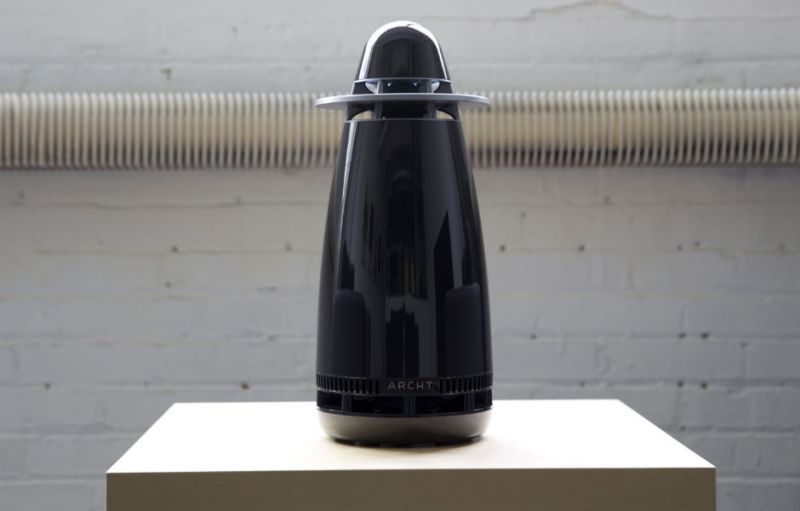 Don't go reaching for your mug — you won't be getting any coffee out of this futuristic pod. But what you might get is spacious 360 – degree sound. The device above isn't a lunar rocket, it's a new wireless speaker called the Archt One that has so far more than doubled its pledge goal on Kickstarter to pull in around $150,000. Brandishing a specially-crafted driver system designed to disperse sound throughout the room in all directions, the Archt One aims to replace your hi-fi with minimalist style.
Related: Bang & Olufsen's new wireless speaker begs audiophiles to believe in Bluetooth
Inside the space age capsule, the Archt One faces a full range driver and a subwoofer head to head above and below the open chamber, sending the sound directly through the specialized array module in an effort to replicate the sonic signature of acoustic instruments like guitars, allowing it to evenly distribute audio playback. A passive radiator at the base of the system also helps to amplify the low frequencies to create a fuller sound, helping the speaker achieve a claimed frequency response of 52Hz-20kHz.
But the speaker also adds some impressive smart technology to go with its patented hardware, including DSP for sound optimization designed to "restore streaming audio quality," as well as a custom audio app that uses the microphone in your smartphone to optimize the sound for your environment. The system is also multi-zone capable, allowing users to add more speakers ala Sonos, Bose, and other multi-room sound systems. Users can control the speaker through the app, or via touch sensors on the Sound Array.
Related: Hal 9000 meets premium sound in the new OD-11 cloud speaker
Designed for audiophile sound reproduction, the Archt One is claimed to achieve high resolution playback of up to 24bit/192kHz over a Wi-Fi connection. The speaker also supports Airplay for Mac and iOS devices, and for those times when a Wi-Fi connection isn't available, the speaker also sports Bluetooth connection, as well as Aux and USB connections.
The speaker is expected to retail for $599. However, at time of publication, there were still several available for a reasonable $349, expected to ship as early as February 2015. If you'd like to check out an Archt One for yourself, you can pledge at its Kickstarter page now.
This piece first appeared at our brother site, Digital Trends.
Editors' Recommendations