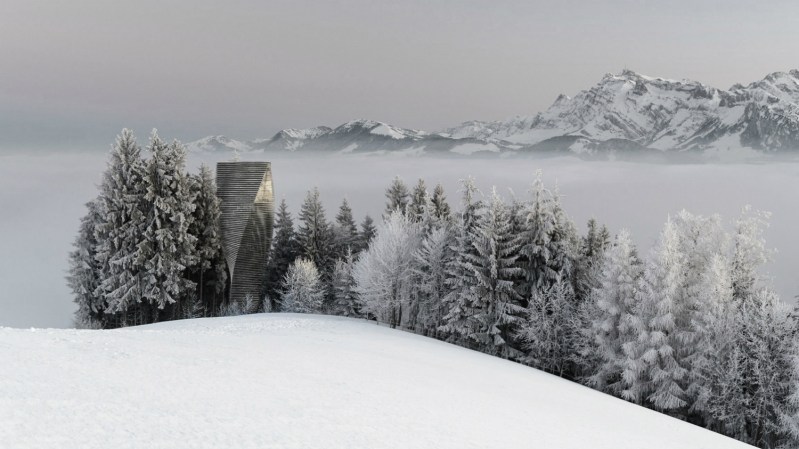 When you think "treehouse," a rickety structure high on a limb with definite childhood clubhouse aesthetic probably comes to mind. Or perhaps you think of the over-the-top luxury treehouses that have been popular in recent years. The idea of staying in a tree has mass appeal as evidenced by shows like Treehouse Masters and hotels like Biku Treehouse Retreat.
Architect Antony Gibbon has a different idea: Helix is a whole new take on the forest retreat. Gibbon is known for designing unique structures that take their inspiration from nature. His concept for Helix is no different. Designed to blend in with the surrounding trees, the structure has a gently twisting form, similar to the double helix of DNA (there's a metaphor in there somewhere).
The exterior of the treehouse is clad in slatted wooden beams, which provide a glimpse of the staircase that leads up to the living space. At just 100 square feet, Helix takes the idea of living tiny to the extreme.
There is just enough space for a kitchenette and small bathroom on the first floor, with the bedroom on the second floor. One entire wall is glass, allowing for tons of natural light and stunning views. Living in such a small space seems easy when you get to wake up to views of the treetops every morning.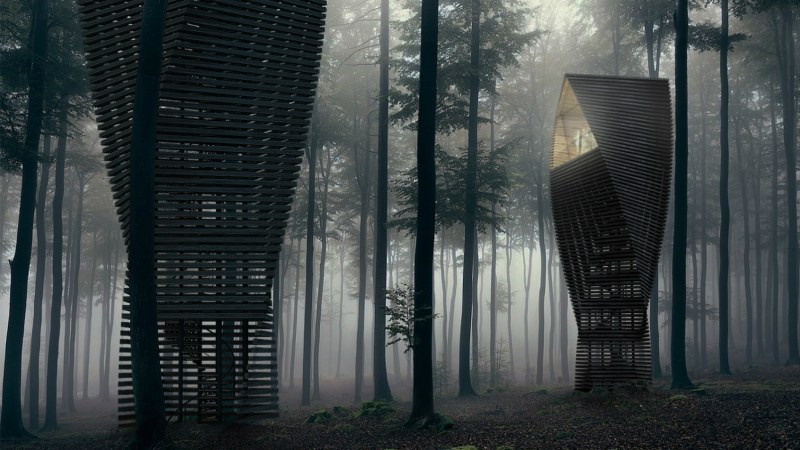 Designed to be a stand-alone weekend retreat or a series of towers to create a small community (hello zombie apocalypse haven), Helix is also eco-friendly, using minimal resources to build. The small footprint of the tower ensures that it is low-impact on the land. Most importantly, this "treehouse" does not rely on support from surrounding trees — it is a freestanding structure, further minimizing the impact on the environment.
Helix is part of a series of unique, visually stunning treehouses Gibbon has conceptualized. From his bulbous Trine House to the cylindrical Embryo House, the UK-based architect has been developing forward-thinking designs for forest dwelling. Each design is inspired by nature in a different way and all can be built as freestanding structures, putting no strain on the surrounding trees. This technically means they aren't actual "treehouses," but the designs are so damn cool, we are willing to overlook that.
Editors' Recommendations