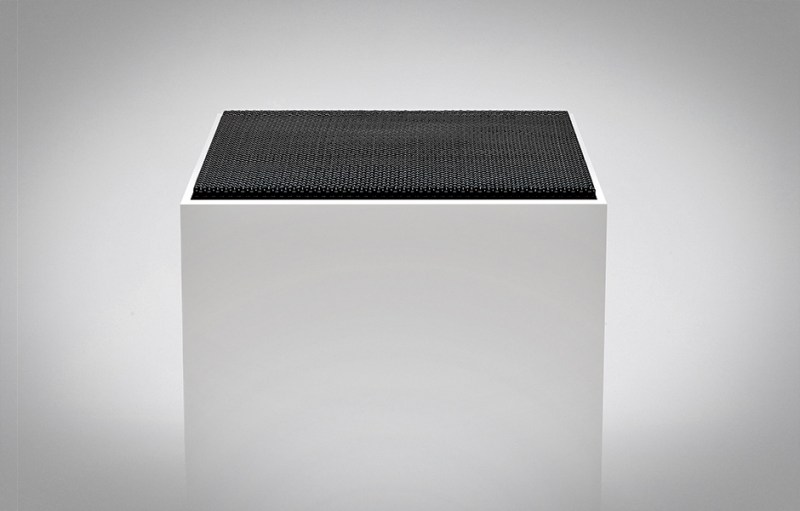 When it comes to classic speaker designs, few are as iconic and distinctive as Stig Carlsson's OD-11, a solid block of sound from the 70's that offered performance, and aesthetic sensibilities that were far ahead of its time. Recently, Carlsson's fellow Swedes at Teenage Engineering decided it was time for the famed "Carlsson Cube" to stage a comeback, morphing the vintage-yet-futuristic design into modern wireless block of sound in the new OD-11 Cloud Speaker.
One of the things that made the original OD-11 such a great performer was its omni-directional sound pattern, which allowed the cubic cabinet to disperse powerful sound throughout room. The new OD-11 Cloud holds on to that design with the configuration of its dual premium drivers, including a long throw pulp cone woofer, and a ferrofluid-cooled cone tweeter. The speaker also packs 100 watts of class D analog power on board to blast sound from a low 28Hz, up to 20kHz.
The speaker is also built for the new age of audio, and that means wireless streaming and more. An on-board "brain" in the form of a processor called the Ortho Engine allows the speaker to do some fancy tricks, including controlling DSP, streaming via Wi-Fi with Airplay support as well as Bluetooth, and even reading your Twitter feed via a built-in voice synthesizer – if you're into that sort of thing.
Of course, the cloud also comes into play via an iPhone app that allows the speaker to source music from your preferred cloud-based service, with the ability to add more services through future updates. And once you've set the OD-11 up for cloud playback, the speaker's Ortho Engine is designed to remember "everything you have played since the day you first turned on the OD-11," and will also source sound from the cloud with or without your phone connected.
We don't know about you, but this speaker is the kind of device that reminds us we're planted deeply into the future these days – and damned if the future isn't awesome. If you'd like a piece of that state-of-the-art feeling – with a neo-retro twist – you can order up your own OD-11 Cloud Speaker from Teenage Engineer's website today for a cool $900.
Editors' Recommendations