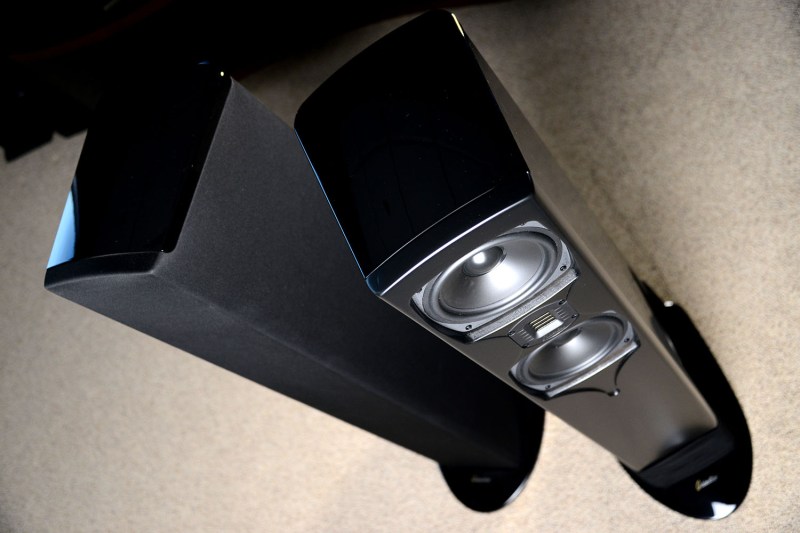 Few aspects of my job are more satisfying than having a legitimate excuse to plant my butt on a couch and listen to music for hours on end. Still, for as naturally excitable as I already tend to get over new speakers, I can't recall ever having a greater sense of anticipation or excitement than I experienced over the arrival of the GoldenEar Technology Triton Five. And now, they are finally here.
My infatuation with the Triton Five began at CES this past January, when GoldenEar co-founder and speaker-design legend, Sandy Gross, sat me down for what will go down in my memory as one of the most poignant demonstrations I've ever had the pleasure of sitting through. Many factors were at play: Sandy's choice of recordings, the monumentally expensive equipment driving the speakers, and the speaker's impeccable placement no doubt all played a significant roll. But what knocked me back hardest was being forced to reconcile the amazing sound I'd just heard with the price point Sandy shared with me after the demo: $2,000 a pair!
For many, $2,000 is a steep price for a pair of speakers. But for most audiophiles, it's chump change. I know some folks who spend more than $2,000 on a 3 meter-long piece of speaker wire, and those same enthusiasts won't bat an eyelash when they drop $10,000 or more on a pair of monolithic, room-dominating pillars of sound. So, to get the amazing sound quality out of the Triton Five that the team at GoldenEar Technology has achieved for $2,000 is nothing short of a coups in the world of high-end audio. Ever heard of the law of diminishing returns? The Triton Five redefine it.
Related: Astell&Kern's AK380 portable audio player takes hi-res opulence to 11
One listen and you might think that there's some sort of sorcery at play — I know I had my concerns that the mountain of electronics no doubt totaling well over $20,000 had more to do with what I was hearing than the speakers did. But as I have learned by placing the Triton Five in my own testing lab, connected to my own modest electronics, there's no wizardry involved here … just brilliant engineering.
Each Triton Five speaker flaunts two custom-designed 6-inch midrange/upper bass drivers sandwiching GoldenEar's High-Velocity Folded Ribbon Tweeter in what is known as a D'Appolito Configuration. Those 6-inch drivers are a step up in size for the Triton line, as most of its members sport either 5.25- or 4.5-inch drivers. They serve several purposes in the Five's design, but perhaps most notably, they couple with four 8-inch passive bass radiators located at the bottom of each speaker's cabinet for booming bass.
As such, the design bridges a performance gap between the diminutive Triton Seven and the much larger Triton One, Two, and Three, all three of which sport built-in subwoofer amplifiers. You get big midrange and surprisingly deep bass, but without the heft and footprint of a much larger tower speaker. It's basically the Goldilocks of the Triton lineup.
The Triton Five hit the sweet spot of the high-performance speaker market. They deliver immense detail, expansive and translucent midrange, and bass far deeper and better-integrated than any speaker under $5,000 has a right to boast. They really are that good.
Editors' Recommendations