Summer mountain getaways are without a doubt our favorite vacations. Add in a crowd of adrenaline junkies, world class athletic competitions, a nightly concert series, and huge gear village, and you've got the makings of a trip you'll tell stories about for years to come. There's only one place that puts all of these elements of adventure together seamlessly, and that is the GoPro Mountain Games in Vail, Colorado. We were on the ground (and in the air and water) this year to get a taste of the very best experiences Vail has to offer.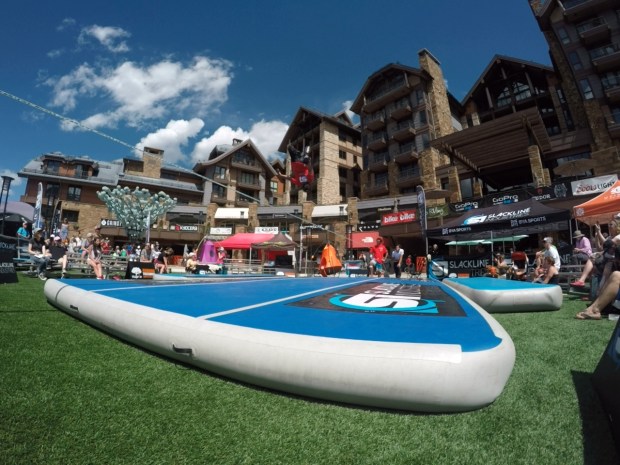 Related: 5 Best Mountain Town Adventures | Best Mountain Town Bars
Primarily, the Games are a celebration of all our favorite mountain sports; this year featured an enduro mountain biking race, world cup bouldering, rafting, kayaking and SUP events, and more. We were in town to get some instruction on how to better use our GoPro cameras in adventure settings, so we hit the water for a run down Gore Creek.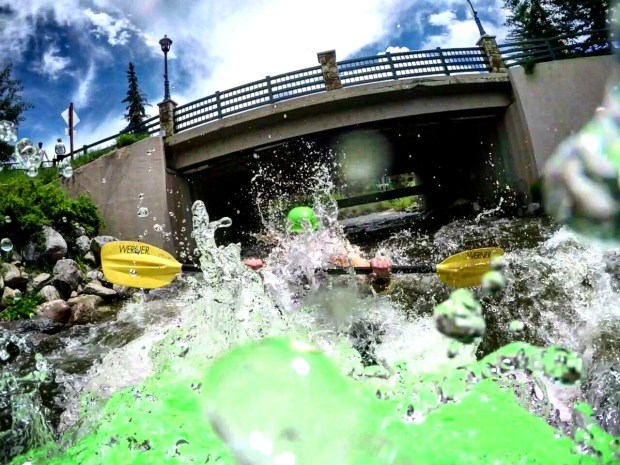 For serious paddlers, the class III rapids featured on the stretch of river around Vail Village are pretty trivial. However, for our novice skills, and the open top kayaks we were riding in they proved more than enough danger and excitement. Our guides fished us out of a couple dips in the river, and we paddled on. After our down river sprint, we took our GoPros off the kayak and helmet mounts to check the footage, and get a crash course in a recent acquisition, the Quik App. With a built in music library and smart editor, even a novice can put together a professional edit of their adventures in just a few minutes. It took us about five minutes to pull a few video segments from the river together and order them to tell a coherent story. Quik did the rest:

Of course, the Games is not all about high stakes, adrenaline fueled, extreme sports. After getting dried off and warmed up (Gore Creek was running at a frosty 44-degrees), we headed over to the Dock Dogs competition with famed photographer, Travis Burke, one of GoPro's premier ambassadors. These high flying canines were the perfect subjects to show off the slow motion capture and burst shot capabilities. Shooting up to thirty photos a second, the Hero 4 Silver ($400) caught every highlight of the action as serious athletic shepherds, labs, and malinois took flight in front of the crowd. The slow motion capture – up to 120-frames-per-second at 720p resolution – helped catch every jump, catch, and splash. We'll be taking one along for our big Pacific Northwest trip later this summer, so stay tuned for some tips and tricks as we start to perfect our video skills.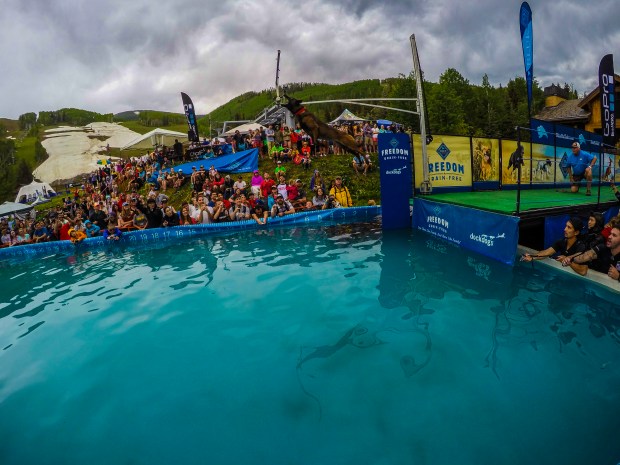 Whether you're on the hunt for your next high altitude single track, looking to make your first splash on a SUP or kayak, or just want to take it all in, the Mountain Games are the capital of adventure sports every summer. If you missed it this time around, it's time to get a jump start on planning your perfect GoPro fueled adventure next summer.



Cover photo Courtesy of GoPro/Logan Robertson
Editors' Recommendations