One of the big advantages of prefab homes is the ease of transporting the structure to the build site and quickly assembling the pieces. But what happens when the build site is a remote hill in the middle of Pueblo Eden, Uruguay with no facilities or neighbors around for miles? That was the challenge undertaken by MAPA Architects and their Retreat in Finca Aguy project.
Prefabricated homes are becoming so commonplace that the builds can't exactly be called "exciting" anymore, but that was not the case for Retreat in Finca Aguy. All of the equipment and the two pre-built sections of the home had to be trucked 124 miles to the secluded build site. It was interesting enough that Mapa was sure to include several fun gifs of the process on their website.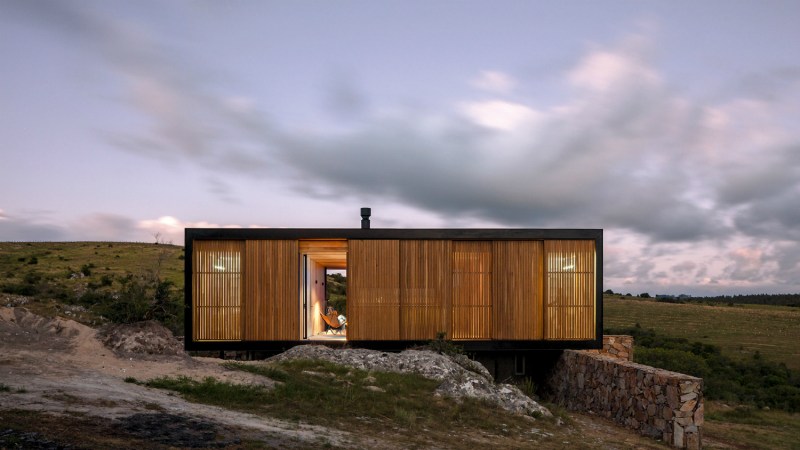 Getting the machinery and home to the site was only the first part of the challenge, however. The site's terrain was uneven and special stone support walls needed to be built before the parts of the home could be lifted into place by massive cranes. Once the walls were prepared, it was a careful balancing act to place the two parts of the home. Pieced together, the steel-framed structures became a beautiful contemporary home with picture-perfect mountain views.
Retreat in Finca Anguy is intentionally isolated. The family wanted a quiet escape to unwind in while also keeping the home as low impact on the environment as possible. An off-the-grid home was the ideal solution. The home is entirely self-sufficient, powered by solar energy and complete with its own waste treatment system. Even the stone support walls ensured that minimal land was disturbed to place the home on the site. Should the need arise, the home can be removed from the site, with the stone walls being the only evidence left that it was ever there.
Unlike many other contemporary homes which blend in with their natural surroundings, Mapa purposely designed the home to visually compete with the landscape. The rectangular shape contrasts with the soft rolling hills. Simple sheet metal clads the exterior and stands out against the surrounding greenery.
Inside is just the opposite – natural materials were used throughout the home to create a warm, inviting space. Wood planks cover the floors, walls, and ceilings. The only other material used inside is the stone on the kitchen counter tops. Simple furnishings were used in the large family room, which includes the living area, dining space, and large kitchen. There are bedrooms and bathrooms on either side of the family room, providing every area with jaw-dropping views of the rolling hills just beyond the home.
Completed in just four months, Retreat in Finca Aguy, is the ultimate secluded, off-the-grid home with mountain views that have us daydreaming of relocating to Uruguay.
For another prefab home that doesn't look prefab, check out this house in the woods.
Editors' Recommendations