Coffees and teas are fickle creatures, demanding a precise temperature for the perfect cup.
But kettles and microwaves just offer either lukewarm frustration or tongue-scorching heat that's probably lukewarm by the time you're able to drink it. No more, hot drink drinkers! The San Francisco company, Fellow, has produced the answer: their EKG Electric Kettle.
The Fellow kettle looks like it belongs in a fancy Swedish museum of modern art, but its beauty belies its incredible functionality. Everything on this kettle was designed to make your life easier. To start with, you get to decide the temperature of the water. If water is too hot, it can scald coffee grounds, making a bitter cup; too cold and you get weak, sour coffee. The sweet spot is generally somewhere in between 195°F and 205°F for coffee; teas are even more fastidious: green teas typically want somewhere between 160°F and 180°F but oolongs, for example, like it hotter, between 180°F and 190°F. Water boils at 212° F. What to do? Settle for subpar drinks? Never!
With the EKG Electric Kettle, you set the dial to the exact temperature you want. It gives you a wide range of temperatures (readable in both Fahrenheit and Celsius) from 135° F to 212°F. The hold button on the back of the base will even allow you to maintain that water temperature for 30 minutes.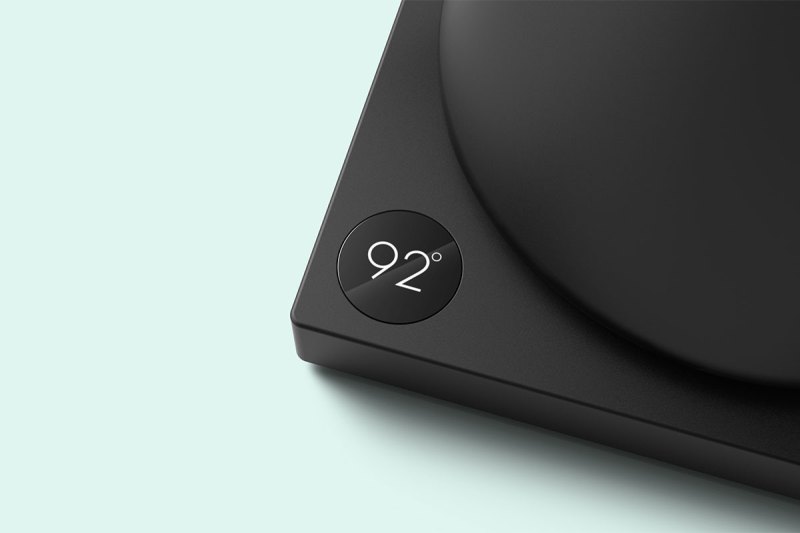 Coffee pour over enthusiasts especially will appreciate the counterbalanced handle that shifts the center of gravity so that the pour is perfectly even. The Precision Pour Spout further ensures that your pour is exact, down to the drop.
If technology and hot beverages is your thing, check out Fellow's EKG+ edition of the kettle. The EKG+ syncs up with the Brewbar app from Acacia to create the barista experience in your own home without all the bizarre spellings of your name. The app can turn your kettle on and get that water a-warmin', and talk to the Acaia scale and Baratza grinder to make precise cups and save recipes.
Fellow is a startup that has successfully brought a number of products to the table using Kickstarter and the EKG kettles are no exception. They've already raised well over $300,000 of a $100,000 goal. If you back the project now, you get significant savings off future prices, like $109 for the EKG Kettle, instead of $150.
It's time to do right by your coffee and tea, as well as your taste buds. And dress up your kitchen while you're at it.
Editors' Recommendations