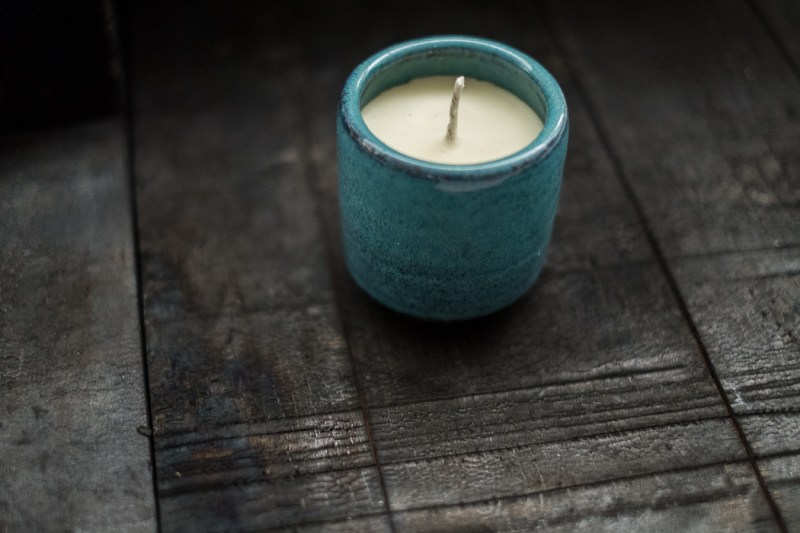 There are just a handful of days left to grab a unique item that will provide a little homey comfort in your hotel room—a limited edition travel candle.
Creators Jasen and Allison Bowes love collecting unique décor and useful objects during their travels, but what they discovered led them to create their own company. They learned that every object has a unique story and that friends and family often told them, "I would have paid you to bring one of those back for me."
They put their heads together and conceived Elsewhere—a business that offers limited runs of unique items. Right now, if you head over to their website, you'll find a travel candle they produced in collaboration with Norden and Hajime Imura.
They contracted Imura, a ceramic artist in Japan to create reusable sake vessels and then Norden pours the soy candle inside. The candle arrives packaged in a 50mm camera lens bag made out of vintage Japanese Boro fabric and leather. Only 80 candles have been produced. The price is $100.
"I met the ceramics maker in Japan," said Jasen. "He's retired and pouring himself in the art."
Once the candle burns down, the cup can be reused.
They tell the story of each item on their website and release a new object for sale every 60 to 75 days. They find vintage and new items as they travel and work with artists to produce limited edition products for Elsewhere. "We build an object on the road when, where, and how we travel. It's part of the inspiration we get from the place," said Jasen.
Allison runs and owns a fashion showroom on the west coast, and Jasen's background involves consulting with brands to help on sales and marketing strategy. He last worked for Levi's.
"We've worked alongside designers for the past 20 years," he said. "We knew how to put things in the market that people will like."
Editors' Recommendations