So, you've got a first date! Well done! Now for the hard part: planning said date. We've got an embarrassment of riches in terms of activities in LA so it can be tough picking the right thing to fit the vibe. Maybe you want something casual to feel the situation out, or perhaps it's time to pull out all the stops, but you lent your private jet to your friend Steve. You're covered. Below are four ideas, in ascending price and effort, of things to do while figuring out if this is, in fact, love.
221 S. Grand Avenue, Los Angeles, CA 90012
This impressive, almost alien-like honeycombed building was just completed and houses the personal collection of Eli and Edythe Broad's extensive post-war and contemporary art. The building is 120,000 square feet of work from luminaries like Jean-Michel Basquiat, Cindy Sherman, and Jeff Koons, which means lots of time for you two to wander around and get to know one another. Plus, the futuristic building itself is bound to spark conversation: uniquely, the vault holding currently-undisplayed pieces forms the lobby and the floor of the exhibition space above. It contains windows to peer in so you can get the sense of just how vast the collection is. Outside is a green space with centuries-old olive trees, providing a perfect spot for some post-museum food– maybe even from Grand Central Market.
Echo Park Reservoir + Downtown Tours – $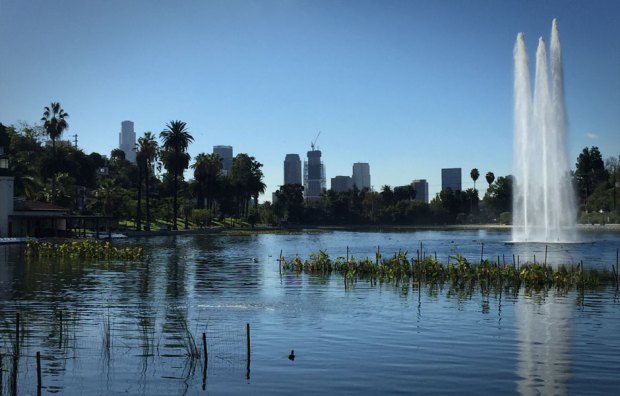 751 Echo Park Ave., Los Angeles, CA 90026
Angelenos have been cooling their heels by this lake for over 100 years now, and thanks to a recent renovation, it's never been better. Wildlife abounds, a cafe offers food and coffee, and you can even fish in the lake! This park is the perfect place for casual, romantic strolls, city views, and pedal boating! For a mere $10 per person you and your main squeeze can paddle around the lake, admiring LA's skyline at one end and a tranquil lotus garden at the other. Plus, you can't beat the people watching. If things are going well after showing off your killer calf muscles in the pedal boat, head into nearby downtown for some fantastic walking tours offered by the LA Conservancy. There are a variety of tours that showcase the area's history, architectural landmarks, and even movie locations depending on which option you choose. You can go the free, self-guided route or opt into a guided tour for $10 per person.
Cinespia – Movies Screened in Hollywood Forever Cemetery – $$
6000 Santa Monica Blvd, Los Angeles, CA 90038
Watching movies outside is great, but watching movies in a cemetery where the film's very actor may be buried beneath you? Even better. Cinespia screens movies in historic Hollywood Forever Cemetery, offering cinematic treasures anywhere from the 1930s up through the '90s. While it's definitely pricier than your average movie ticket ($20 per person for general, $45 for premium with some worthy perks) it comes with incredible atmosphere, a DJ plays music until sundown when the movie begins, a store sells nifty gifties, and sometimes the movie is introduced by its actors and/or director. Parking can be a bit of a pain, but it's easy to Uber there and skip the hassle completely. Pack a picnic (wine and beer allowed), and enjoy a movie beneath the stars and headstones.
Two small caveats with this one: it's 21 and up and the cemetery screenings are seasonal. Movies screen in the glorious and equally awesome Palace Theatre when not in the cemetery.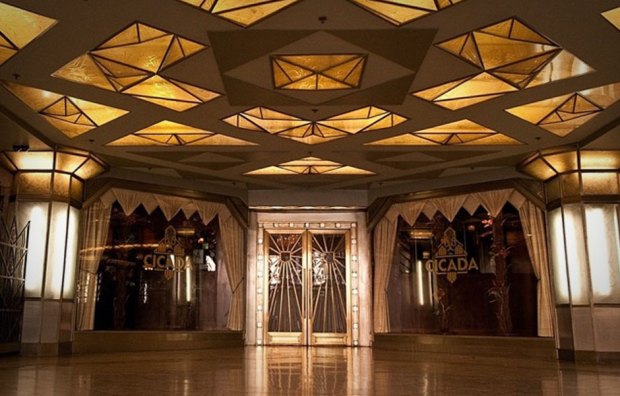 617 S Olive St, Los Angeles, CA 90014
Maybe you're looking for a bit more adventure on your date– time travel, perhaps? Easy: go to The Cicada Club, a Roaring '20s dinner-dancing club. The second you walk through the golden doors of this 1928 building on the National Register of Historic Places (that also may be haunted), it's impossible to remember you're living in the age of Taylor Swift instead of Duke Ellington. Every Deco detail of the two-story club is picture perfect, sumptuous and glittering; a large dance floor on the lower level is surrounded by tables draped in white table cloths and fronted by a stage that hosts big bands and sultry singers. Upstairs offers a bar and lounge for those who want to skip the prix-fixe dinner for drinking and dancing the night away. There is a dress code (evening or business attire), but almost everyone dresses in period clothes, anywhere from Victorian to the 1950s. They offer a coupon for a costume shop that will rent you fantastic beaded flapper gowns or tux complete with top hat and cane if you really want to jazz it up. Depending upon whether or not you get dinner, you'll need to get admission tickets, which are recommended you buy beforehand. This spot ticks all the boxes for an unforgettable night that oozes vintage charm and romance. No private jet required.
Editors' Recommendations