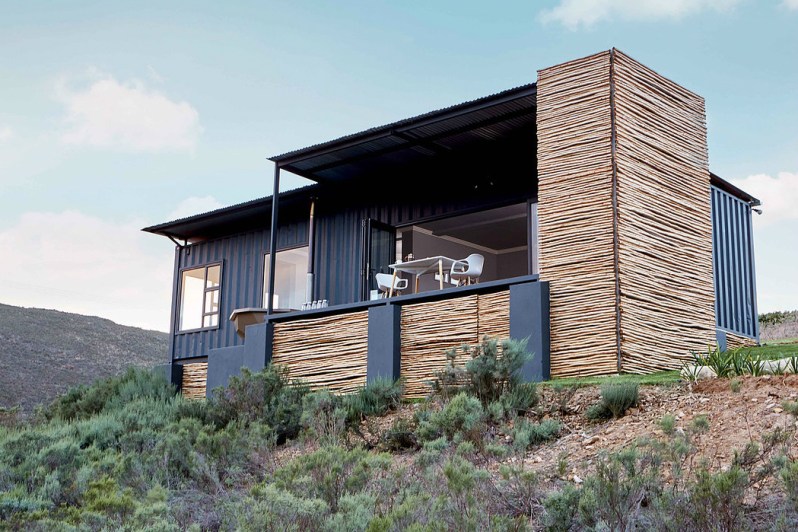 We love a good shipping container-turned-home. The simple structures make for masculine, gritty spaces that offer an urban industrial look that can literally be placed anywhere you like from city to countryside. What started as a seemingly strange choice for a house has caught on and become more and more popular. But a hotel made from shipping containers? That's something we rarely see. While others have made the concept of a shipping container hotel work, few have been able to add that luxury touch the way Copia Eco Cabins has.
Just 90 minutes outside of Cape Town, South Africa, in the town of Botrivier, Copia Luxury Eco Cabins are high-end vacation rentals made from shipping containers. Located on a private farm, Copia is eco-friendly and completely off-grid. But off-grid doesn't mean you'll be roughing it. There are three cabins to choose from, and each features spacious kitchens (complete with full-sized refrigerator and electric cooktops), cozy living areas with wood-burning fireplaces, full bathrooms with spa-like finishes (including large soaking tubs), a braai (a South African barbeque), and the star of the show: outdoor, wood-fired hot tubs. The remote location of Copia means there's no Wi-Fi allowing you to fully unwind and disconnect during your stay.
Each cabin at Copia is carefully positioned on the property to maximize privacy and capture stunning views of the farm. Outside, parts of the shipping containers were left exposed, dents and all, to honor their origin, while distinctly African touches were added including locally sourced stacked stone foundations and woven branches as cladding. Each cabin offers a spacious deck for outdoor dining or enjoying a glass of wine in the evening.
Inside, the cabins are roomy and laid out in an open-plan style. Walls of folding glass doors allow the space to become open-air, letting in those gentle, cooling breezes on hot summer days. The main living area includes the kitchen, a dining table, and a sofa that faces the fireplace. A three-quarter wall divides this space from the bedroom, which was kept simple with just a queen bed, blocks of raw wood for nightstands, and hanging light bulbs as side lamps. Another three-quarter wall between the bedroom and bathroom allows for privacy when showering. But the luxurious soaking tub is fully exposed to the living area, adding a touch of risque romance for couples who book the cabins.
Though the layout of the cabins is the same, there are subtle design details that differentiate each one. The overall style is a combination of industrial notes, comforting tones, and luxurious finishes that make the spaces feel like a high-end retreat and not simple cabins inside of shipping containers.
The name 'Copia' means abundance, and that's certainly what you get with a stay in one of their unique cabins.
Editors' Recommendations