Remember the Coolest Cooler? You know, that all-in-one cooler that had a Bluetooth speaker, built-in blender, and rugged, all-terrain wheels? Well some brilliant inventor recently took the idea behind that incredible Kickstarter success and applied the same idea to an outrageous, all-in-one toolbox. Known simply as the Coolbox, this high-tech take on a portable storage container took to Indiegogo to secure enough money to put itself on every job site across the country. Much to the delight of the producers of the Coolbox, the campaign shattered its desired goal of raising $50k, amassing an astounding $370,865 during the course of its 30 days on Indiegogo. Needless to say — like its Coolest Cooler cousin — the Coolbox is a bonafide hit and seems destined to accomplish co-founder Mike D'Agostini's goal of bringing the classic toolbox into the 21st century.
So what is it about the Coolbox that makes it so, well, cool?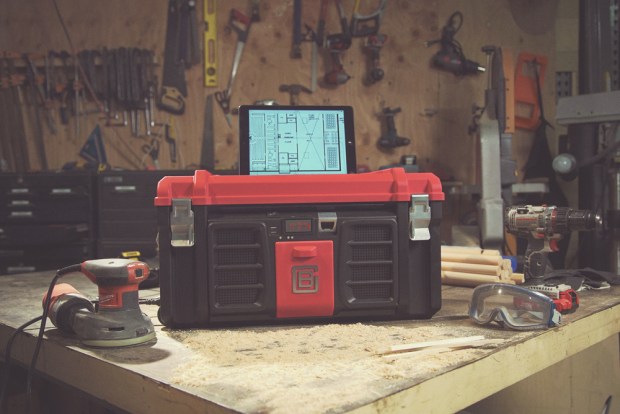 As expected, the box comes outfitted with an abundance of gadgets and gizmos even Bob Vila could appreciate. With an internal, 20v rechargeable lithium polymer battery, the box gives users the ability to operate small power tools and keep any devices freshly charged. To plug in those devices and power tools, the box features two USB ports built-in to the front panel as well as a three-way power supply splitter. What's more is the three-way power supply splitter has the ability to either pass power from a wall outlet or power a wide range of external tools on its own. Need an extra cord? No problem. The Coolbox comes outfitted with a handy 12-foot retractable extension cord, adding even more flexibility for budding job sites.
Understanding the fact working with music makes any job 1,000 times more entertaining, the Coolbox's creators included a built-in Bluetooth speaker on the front of the unit. Owners also have the option of connecting any music player via a convenient auxiliary jack if the device used isn't Bluetooth compatible.
The toolbox also sports a handy tablet stand to make analyzing blueprints, reading instructions, or navigating media an absolute breeze. Perhaps you don't own an iPad or tablet, worry not, the Coolbox comes standard with a double sided, removable dry-erase board on its inside lid perfect for quick note taking or jotting down a daily schedule.
Related: Truce makes the last backpack you'll ever want to own
Despite its throng of included widgets, what good would a toolbox be without ample storage and sturdy construction? Thankfully, the minds behind the Coolbox kept this crucial tenet in mind when hatching the plans for their innovative job site companion. With just over 1,791 cubic inches of interior storage capacity, you won't have a hard time fitting a slew of tools and equipment inside. To exemplify this trait, the Coolbox crew provides a video on its Indiegogo page showing co-founder Mike D'Agostini storing multiple screwdrivers, tape measures, hammers, wrenches, pliers, and everything else under the sun into the body of the box. Moreover, the container's removable top storage shelf also proves to be a perfect place to stash screws, nails, pencils, levels, or any other small knick-knack a job site might require.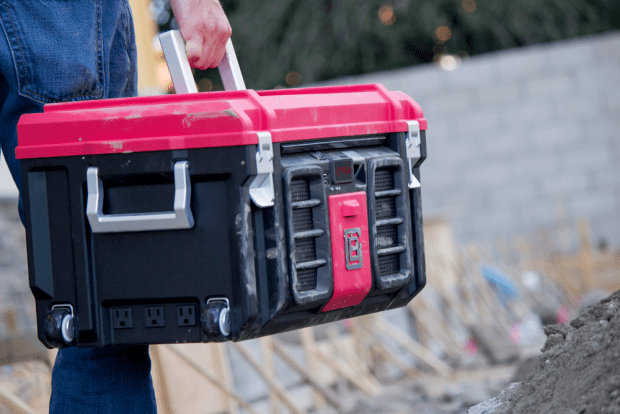 Understanding the fact tool boxes take a royal beating day in and day out, D'Agostini and company made the Coolbox's exterior extremely rugged and durable. The box features an exterior construction of high impact resin, machined aluminum latches and handles, and an incredibly snug seal on the lid that's both air and water tight. It's a stellar achievement in toughness which pairs perfectly with the box's equally impressive quality and integrity.
The Coolbox's Indiegogo campaign was a massive success, all but assuring this ingenious invention will soon find itself in the bed of nearly every work truck in the United States. After taking some time to dive a little deeper into what makes this the ultimate toolbox, it's clear its success didn't need to be justified by how much crowdfunding it amassed. Instead, the Coolbox's proper and effective reinvention of the toolbox makes it a genuine hit for the 21st Century and beyond.
Editors' Recommendations